Aste

Oggetti della Camera dell'arte
Il Vostro Art Agent personale
Volete acquistare un oggetto simile?
Volentieri Vi teniamo aggiornati, quando opere simili verranno offerte in una delle nostre prossime aste.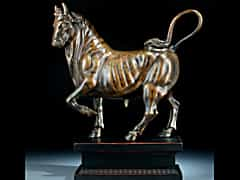 717
Bronzestier
Bronzestier nach dem Original von Antonio Susini, der Zeit um 1600. Der Stier im Gang befindlich. Der linke Huf angehoben, den Kopf zur Seite gedreht, der Schwanz auf den Rücken fallend. Feine, dunkel- bis hellbraune Patina. Auf Holzsockel montiert.
H. mit Sockel: 38,5 cm.
18. Jhdt. (62035217)
Prezzo del catalogo € 7.000 - 8.400 Prezzo del catalogo€ 7.000 - 8.400 $ 7,560 - 9,072
£ 6,300 - 7,560
元 52,220 - 62,664
₽ 586,320 - 703,584
This object has been individually compared to the information in the Art Loss Register data bank and is not registered there as stolen or missing.
Il Vostro Art Agent personale
Volete essere informati quando nelle nostre prossime aste un'opera d'arte simile viene offerta? Attivate qui il Vostro Art Agent personale.