Il Vostro Art Agent personale
Volete acquistare un oggetto simile?
Volentieri Vi teniamo aggiornati, quando opere simili verranno offerte in una delle nostre prossime aste.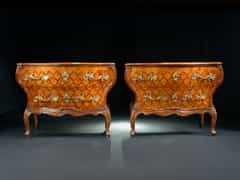 69
Paar hochbedeutende Rokoko-Kommoden
vom Hofébénist Nikolaus Bauer.
Prezzo del catalogo € 190.000 - 230.000 Prezzo del catalogo€ 190.000 - 230.000 $ 199,500 - 241,500
£ 171,000 - 207,000
元 1,392,700 - 1,685,900
₽ 12,549,500 - 15,191,500
Ein seltenes Paar fränkische Kommoden auf geschnitzten, gebogten und mit Akanthusblattmotiven belegtem Fuß. Rocaillenelemente. Die Zarge gebogt, durch C-Voluten und Blattwerkmotive
beschnitzt. Kartuschen und Blütendekore. Der Körper allseitig mit Rauten- und Würfelmarketerie belegt. Die seitliche Wandung von konvex auf konkav wechselnd. Die Vorderfront bombiert. Fein gearbeitete Bronzebeschläge mit Zuggriffen und Schlüsselschildern.

H.: 79 cm. B.: 104 cm. T.: 66 cm.
Bamberg, um 1750.

Provenienz:
Diese beiden seltenen Kommoden gehörten ehemals zur Ausstattung von Schloß Seehof.
Aus dem Besitz von Philipp Freiherr von Würzburg.
(612096)
This object has been individually compared to the information in the Art Loss Register data bank and is not registered there as stolen or missing.
Il Vostro Art Agent personale
Volete essere informati quando nelle nostre prossime aste un'opera d'arte simile viene offerta? Attivate qui il Vostro Art Agent personale.