Aste

Aste settembre parte II.
Il Vostro Art Agent personale
Volete acquistare un oggetto simile?
Volentieri Vi teniamo aggiornati, quando opere simili verranno offerte in una delle nostre prossime aste.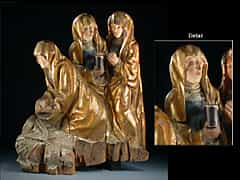 273
Fragment eines gotischen Reliefs
Holzgeschnitzte Beweinungsgruppe, fragmentarisch erhalten. Von links nach rechts: Fragment eines Armes sowie der Beine Christi, kniende Maria, Maria Magdalena mit ihrer Salbdose und einer weiteren weiblichen Figur. Polychrom gefasste Figuren und Gesichter. Die Gewänder größtenteils vergoldet. Risse und Beschädigungen.
Prezzo del catalogo € 10.000 - 12.000 Prezzo del catalogo€ 10.000 - 12.000 $ 10,800 - 12,960
£ 9,000 - 10,800
元 74,600 - 89,520
₽ 837,600 - 1,005,120
H.: 48 cm. B.: 41 cm.
Süddeutschland, um 1510.
(5905314)
This object has been individually compared to the information in the Art Loss Register data bank and is not registered there as stolen or missing.
Il Vostro Art Agent personale
Volete essere informati quando nelle nostre prossime aste un'opera d'arte simile viene offerta? Attivate qui il Vostro Art Agent personale.