Ricerca Adriaen van Stalbernt nell'asta
Pitturas Vecchio Maestro

venerdì, 23 settembre 2005
Il Vostro Art Agent personale
Siete interessati alle opere di Adriaen van Stalbernt?
Volentieri Vi teniamo aggiornati, quando le opere di Adriaen van Stalbernt verranno offerte in una delle nostre prossime aste.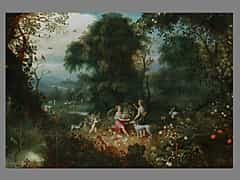 169
Abraham Govaerts,
1589 - 1626 Antwerpen
WALDLANDSCHAFT MIT ZERES UND DIANA 81 x 56 cm.Öl auf Leinwand. Parkettiert. 
Gerahmt.
Prezzo del catalogo € 120.000 - 140.000 Prezzo del catalogo€ 120.000 - 140.000 $ 129,600 - 151,200
£ 108,000 - 126,000
元 895,200 - 1,044,400
₽ 10,051,200 - 11,726,400
Dem Gemälde sind Gutachten von Prof. Dr. Claus Grimm von 1980, sowie von Dr. Ursula Härting von 1991 beigegeben.

Auf einer sonnenbeschienenen Waldlichtung überreicht die Jagdgöttin Diana in Begleitung von ihrem Hund der Göttin der Fruchtbarkeit und des Landbaues, Zeres, einen erlegten Hasen. Zum Dank gibt ihr Zeres aus ihrem überquellenden Füllhorn eine Zitrone. Währenddessen sind Putti damit beschäftigt mehr Obst und Blumen den Göttinnen zu bringen. Es lassen sich bereits zu den Füßen der Göttinnen die unterschiedlichsten Arten von Obst und Gemüse finden. Der linke hintere Putto trägt über seine Schultern schwer an einer Weinrebe. Hinter ihm knabbert ein Ziegenbock verzückt am zarten Grün der herabängenden Weinrebe. Der andere Putto pflückt im Vordergrund Blumen für die Göttinnen. Hinterfangen ist diese Szene von einer Baumgruppe, zu deren Seiten jeweils Ausblicke auf die dahinter liegende Landschaft zu sehen sind. Rechts - der Göttin der Jagd zugeordnet - steht ein Hirsch auf einer Wiese, neben sich ein ruhendes Reh. Links - im Sinne der Göttin des Landbaues - eine dörfliche Szene mit einer melkenden Bäuerin und schwatzenden Bauern bei einer Remise. Zeres und Dianas Macht manifestiert sich im Tier- und Pflanzenreichtum dieser idyllischen Landschaft.

So findet sich rechts im Vordergrund ein farbenfrohes Blumenstilleben, wovor drei Hasen fressen. Dem gegenüber befindet sich in der linken Ecke ein Zwickel eines Weihers, in dem sich der an seinem Ufer stehende Reiher wiederspiegelt. Darüber erklettern Affen und Eichhörnchen den schrägen Stamm. Am bewölkten Himmel fliegen Vögel.

Provenienz:
Brian Koetser, London, Herbst 1973,
Nr. 45. Später in westdeutscher Privatsammlung.

Literatur:
Ursula Härting, Kathleen Borns: "Abraham Govaerts der Waldmaler, 1589 - 1626", 2004, Abb. 174, S. 163. (590805)
This object has been individually compared to the information in the Art Loss Register data bank and is not registered there as stolen or missing.
Il Vostro Art Agent personale
Volete essere informati quando nelle nostre prossime aste un'opera di Adriaen van Stalbernt viene offerta? Attivate qui il Vostro Art Agent personale.