Ricerca Max Liebermann nell'asta
Max Liebermann

giovedì, 22 settembre 2005
Il Vostro Art Agent personale
Siete interessati alle opere di Max Liebermann?
Volentieri Vi teniamo aggiornati, quando le opere di Max Liebermann verranno offerte in una delle nostre prossime aste.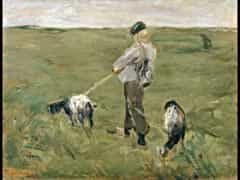 12
Max Liebermann,
1847-1935 Berlin
JUNGE MIT ZIEGEN (1889)?
Prezzo del catalogo € 290.000 - 350.000 Prezzo del catalogo€ 290.000 - 350.000 $ 287,100 - 346,500
£ 261,000 - 315,000
元 2,035,799 - 2,457,000
₽ 17,603,000 - 21,245,000
Öl auf Karton
45,5 x 58,7 cm
Bez. links unten: M. Liebermañ 90
Werkverzeichnis Nr. 1889/18

BOY WITH GOATS(1889)?

Oil on cardboard
17,9 x 23,1 in.
Sign. lower left: M. Liebermañ 90
Catalogue raisonné n° 1889/18

Provenienz:
Felix Liebermann, Berlin (verkauft am 3.9.1923 an Paul Cassirer); Paul Cassirer, Berlin (1923, PC Nr. 4943); Galerie Caspari, München (erworben bei P. Cassirer, Berlin am 3.9.1923); Rudolph Lepke, Berlin (Datum unsicher); Hugo Perls, Berlin (1926); Graphisches Kabinett Bremen (1927); Hermann Marwede, Bremen; Graphisches Kabinett, Bremen (1951); Privatsammlung, Köln; Kunstsalon Franke, Baden-Baden (1990); Sammlung Hans-Georg Karg (seit 1990).

Ausstellungen:
Max Liebermann, Kunsthandlung J. P. Schneider, Frankfurt am Main 1895, Kat. Nr. 23; Das Bild war in einer Auktion bei Rudolph Lepke, Berlin unter der Nr. 79, doch ist bisher unklar, in welchem Jahr; Fünfundsiebzig Jahre klassischer deutscher Malerei, Hugo Perls, Berlin 1926, Nr. 30 ("Auf der Weide, 1890") (?); I. Allgemeine Kunst-Ausstellung, München 1926 im Glaspalast, Juni - Okt. 1926, Nr. 1568; Max Liebermann, Lovis Corinth, Kunstsalon Franke, Baden-Baden 26.8. - 6.10.1990, Nr. 6, Farbabb.; Max Liebermann. Der Realist und die Phantasie, Hamburger Kunsthalle, Städelsches Kunstinstitut Frankfurt am Main, Museum der Bildenden Künste Leipzig 1997-98, Kat. Nr. 69, Farbtaf. auf S. 174.

Literatur:
Boskamp 1994, Kat. E 85; Eberle 1995, Bd. 1, S. 349, Farbtaf. S. 350, WV 1889/18.

Eines der berühmtesten Gemälde Max Liebermanns, die "Alte Frau mit Ziegen" (Neue Pinakothek, München) war, wie diese Ölstudie und viele Zeichnungen belegen, ursprünglich ein "Junge mit Ziegen". Der etwa zehn bis zwölf Jahre alte Knabe hat zwar ebenso wie seine Nachfolgerin Mühe mit den Tieren, doch seinem Umgang mit ihnen haftet etwas Spielerisches, sogar Drolliges an. Man könnte denken: in ein paar Jahren ist er größer und stärker und dann wird er der Tiere leichter Herr. Dieser Gedanke an eine leichtere Zukunft verbietet sich bei der alten Frau. Die Widerspenstigkeit der Ziegen gehörte von Anfang an zum Motiv. Sie wollen von dem saftigen Gras nicht lassen, sie denken nicht daran, dem Zug der Leine zu folgen. Während die eine, rechts im Bild, beharrlich an den Gräsern rupft, zieht die andere den Jungen soweit nach links, daß sich ihm die Leine, an der die andere Ziege hängt, bedrohlich um die Beine wickelt. Das Verhältnis von Mensch und Tier ist hier also keineswegs ganz konfliktfrei, doch noch ohne Dramatik. Die stellt sich erst ein, als Max Liebermann den Jungen durch die Alte ersetzt. Damit kommt dann ein Zug von Härte, von Schicksal in das Bild, der dieser Studie noch fehlt. (5906010)
This object has been individually compared to the information in the Art Loss Register data bank and is not registered there as stolen or missing.
Il Vostro Art Agent personale
Volete essere informati quando nelle nostre prossime aste un'opera di Max Liebermann viene offerta? Attivate qui il Vostro Art Agent personale.