Aste

Aste settembre parte II.
Il Vostro Art Agent personale
Volete acquistare un oggetto simile?
Volentieri Vi teniamo aggiornati, quando opere simili verranno offerte in una delle nostre prossime aste.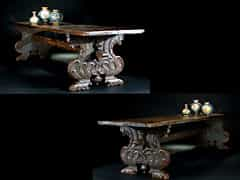 1828
Paar museale und äußerst seltene norditalienische Refektoriumstische des 16.Jhdts.
In massivem Nussbaum gefertigte, in dieser Länge und künstlerischen Qualität äußerst seltene italienische Refektoriumstische. Die massive, lange Platte über zwei Wangenbeinen, die durch einen abgekanteten Balken miteinander verbunden und durch einen vasenförmig geschnittenen Dorn verkeilt sind. Die Wangen in symmetrischem Grundmuster aufgebaut, in Reliefschnitzerei dekoriert: in der Mitte taillierte Form der Tischplatte und nach unten sich weitend in annähernder Vasenform. Der untere Teil mit geschweiften Godronnierungen geschnitzt, dazwischen dreifach gefaltetes Weinblatt mit herabhängender Vase, die von Blättern umspielt ist, mit abschließendem Nodus. Die Taillen-Einziehung in Form von gelappten Blättern geschnitzt, mit zur Tischplatte hin einrollenden Voluten. Die Füße in Form von querstehenden Stollen, mit Kymation-Schnitzmotiv und ausstehenden Blättern. Die Innenseiten der Wangen an der Taille blattförmig beschnitzt. Die Schnitzdekoration der Tische repräsentiert die Stilsprache der norditalienischen Hochrenaissance. Die Tische in einwandfreiem, original erhaltenem Zustand mit entsprechender Alterserscheinung und schöner Patina in dunklem Nusston.
H.: 77 cm. L.: 355 cm. T.: 79 cm, bzw. H: 77 cm. L.: 334 cm. T.: 79 cm. Norditalien, um 1520. (492451)
Prezzo del catalogo € 150.000 - 180.000 Prezzo del catalogo€ 150.000 - 180.000 $ 162,000 - 194,400
£ 135,000 - 162,000
元 1,119,000 - 1,342,800
₽ 12,564,000 - 15,076,800
This object has been individually compared to the information in the Art Loss Register data bank and is not registered there as stolen or missing.
Il Vostro Art Agent personale
Volete essere informati quando nelle nostre prossime aste un'opera d'arte simile viene offerta? Attivate qui il Vostro Art Agent personale.