Aste

Asta di beni di lusso: Gioielli
Il Vostro Art Agent personale
Volete acquistare un oggetto simile?
Volentieri Vi teniamo aggiornati, quando opere simili verranno offerte in una delle nostre prossime aste.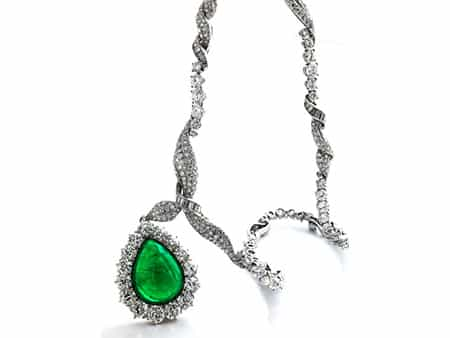 600
Samaragd-Diamantcollier von Verdura
Halsweite: ca. 39 cm.
Gewicht: ca. 62 g.
Platin und GG 750.
Collier signiert "VERDURA", Anhänger signiert "B.S.&F".
Prezzo del catalogo € 35.000 - 45.000 Prezzo del catalogo€ 35.000 - 45.000 $ 37,800 - 48,600
£ 31,500 - 40,500
元 261,100 - 335,700
₽ 2,931,600 - 3,769,200
Beigefügt ein Befundbericht von SSEF Nr. 77264 vom Oktober 2014.

Hochwertiges, elegantes Collier in leicht gekordelter Optik mit feinen Brillanten und Diamanten im Baguetteschliff, zus. ca. 13,5 ct, und einem prächtigen, älteren Anhänger mit einem farbintensiven, tropfenförmigen, kolumbianischen Smaragdcabochon, 22,975 ct, umrahmt von ungewöhnlich feinen, großen Altschliffdiamanten, zus. ca. 7,8 ct. Mittelstück aushängbar. (1020621) (16)


Emerald and diamond necklace by Verdura
Necklace length: ca. 39 cm.
Weight: ca. 62 g.
Platinum and 18 ct yellow gold.
Necklace signed "VERDURA", pendant signed "B.S.&F".

Accompanied by a report from SSEF no. 77264 dated October 2014.

Premium, elegant necklace in rope chain look with fine brilliant-cut diamonds and baguette-cut diamonds, altogether ca. 13.5 ct, and a magnificent, older pendant with vividly coloured drop-shaped Columbian emerald cabochon, 22.975 ct, with a surround of exceptionally fine, large old-cut diamonds, altogether ca. 7.8 ct. Centrepiece detachable.
This object has been individually compared to the information in the Art Loss Register data bank and is not registered there as stolen or missing.
Il Vostro Art Agent personale
Volete essere informati quando nelle nostre prossime aste un'opera d'arte simile viene offerta? Attivate qui il Vostro Art Agent personale.