Aste

Asta di beni di lusso: Hermès, Louis Vuitton
Il Vostro Art Agent personale
Volete acquistare un oggetto simile?
Volentieri Vi teniamo aggiornati, quando opere simili verranno offerte in una delle nostre prossime aste.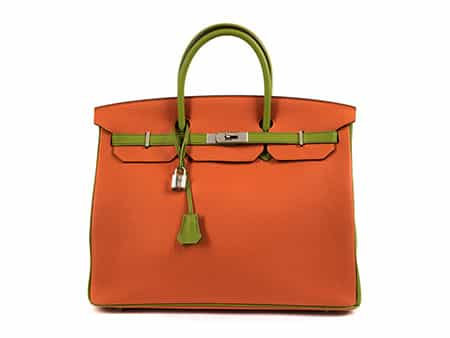 599
Hermès Birkin Bag 40 cm
Special Order Horseshoe
"Orange & Vert Anis"
Ca. 28 x 40 x 20 cm.
Prezzo del catalogo € 8.000 - 12.000 Prezzo del catalogo€ 8.000 - 12.000 $ 8,400 - 12,600
£ 7,200 - 10,800
元 61,440 - 92,160
₽ 815,520 - 1,223,280
Orange und anisgrüne Togo Lederhandtasche mit Palladiumbeschlägen. Innenraum aus anisgrünem Ziegenleder mit einem Reißverschluss- und einem Steckfach. Diese Birkin Handtasche ist einzigartig, da es sich um eine Horseshoe Stamped Sonderanfertigung handelt, entworfen als einzige Tasche in dieser Farben- und Lederkombination. Anbei Originalschloss mit Schlüsseln, Clochette, Regenschutz, Staubbeutel, Schutzfilz, Pflegeanweisungen und Box. Trockenstempel vorhanden. Neuwertig, ohne Makel. Schutzfolie an den Beschlägen vorhanden. (9908621) (19)


Hermès Birkin Bag 40cm Special Order Horseshoe "Orange & Vert Anis"
Ca. 28 x 40 x 20 cm.

Orange und anis-green Togo leather handbag with palladium fittings. The inside in anis-green goat leather with one zip pocket and one slippocket. This Birkin handbag is unique as is custom-made with horseshoe stamp. It is the only bag in this colour and leather combination. Original lock with keys, clochette, dust and rain cover, felt protection, care instructions and box included. Like new, without blemishes. Protective film on fittings in place.
This object has been individually compared to the information in the Art Loss Register data bank and is not registered there as stolen or missing.
Il Vostro Art Agent personale
Volete essere informati quando nelle nostre prossime aste un'opera d'arte simile viene offerta? Attivate qui il Vostro Art Agent personale.