Il Vostro Art Agent personale
Volete acquistare un oggetto simile?
Volentieri Vi teniamo aggiornati, quando opere simili verranno offerte in una delle nostre prossime aste.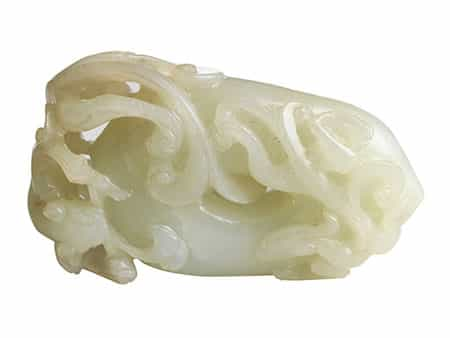 443
Fein geschnittener Jade Anhänger
Höhe: 6,4 cm.
China, 18. Jahrhundert.
Prezzo del catalogo € 11.000 - 15.000 Prezzo del catalogo€ 11.000 - 15.000 $ 11,880 - 16,200
£ 9,900 - 13,500
元 82,060 - 111,900
₽ 921,360 - 1,256,400
Feine hellgrüne Jade mit minimalem bräunlichem Verlauf zum oberen Ende. Die Form geht auf einen archaischen Ring eines Bogenschützen zurück mit im Hochrelief geschnitzten Drachen. Der eine trägt fleischige Lingzhi-Pilze im Mund und trägt keine Hörner, während der kleinere ein einzelnes Horn trägt und einen zweigeteilten Schwanz hat.

Provenienz:
Britische Privatsammlung.

Anmerkung:
Andere Exemplare sind häufig flach gearbeitet, während der vorliegende Anhänger vollrund geschnitzt ist.

Literatur:
Ähnliche Beispiele bei Xue Guisheng, Zhongguo Yuqi Shangjian, S. 31 und S. 167. (1010604) (13)


Finely cut jade pendant
Height: 6.4 cm.
China, 18th century.

Provenance:
British private collection.

Notes:
Other examples are often worked flat, whereas the present pendant has been carved in the round.

Literature:
Similar examples can be found in Xue Guisheng, Zhongguo Yuqi Shangjian, p. 31 and p. 167.
This object has been individually compared to the information in the Art Loss Register data bank and is not registered there as stolen or missing.
Il Vostro Art Agent personale
Volete essere informati quando nelle nostre prossime aste un'opera d'arte simile viene offerta? Attivate qui il Vostro Art Agent personale.