Vente

Sculptures et Haute époque
Votre assistant d'art personnel
Voulez-vous acheter un objet similaire?
Nous vous informons volontiers si des objets similaire vendus dans une de nos prochaines vente aux enchères.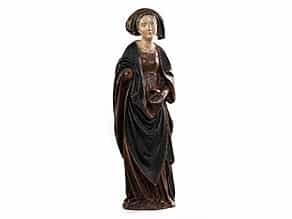 482
Spätgotische Schnitzfigur einer Heiligen aus dem Werkstattumkreis von Hans Multscher, um 1400 Reichenhofen - 1467 Ulm
Höhe: 100 cm.
Prix de catalogue € 15.000 - 20.000 Prix de catalogue€ 15.000 - 20.000 $ 16,200 - 21,600
£ 13,500 - 18,000
元 111,900 - 149,200
₽ 1,256,400 - 1,675,200
Standfigur, in Lindenholz geschnitzt, hinten gehöhlt. Leicht S-bogige Körperhaltung, die noch spät die Charakteristik des sog. "weichen Stils" vorführt. Vom Betrachterstandpunkt aus ist der Oberkörper leicht nach rechts, der Kopf leicht nach links gewandt. Das Gesicht frontal ausgerichtet, der Kopf mit hoher Stirn, umfangen von einem in feine Falten gelegten Kopftuch im Modestil der Bürgerfrau des 15. Jahrhunderts. Das Kleid hochgegürtet, mit breitem Ausschnittsaum, darüber ein Mantel, den der rechte Arm der Heiligen hochrafft, und dessen Saum von der linken Hand über dem Leib gehalten wird, so dass sich spitzbogige Schüsselfalten ergeben, die Mantelkanten nach unten stark spitzbogig zulaufend. Das Kleid an der Vorderseite in tiefere Falten gelegt, steht am Boden auf, ohne die Füße zu zeigen. Die Haltung der linken Hand ist elegant wiedergegeben, die rechte Hand mit Unterarm fehlt. Der Gesichtsausdruck ist mild, die Gesichtszüge weich modelliert, die derzeitige Fassung vermittelt einen nachdenklich nach innen schauenden Blick. Schnitzqualität, Schnitzstil und Gesichtsausdruck verweisen auf die Spätwerke des Hans Multscher-Stils bzw. seiner Werkstatt, nachdem der ursprünglich dem herben Realismus verpflichtete Künstler bereits wieder zu beruhigten, klassischen Formen gefunden hat. Eine genauere Künstlerzuweisung ist dadurch erschwert, dass Multscher als Bildhauer, Maler und Modelleur bis zu seinem Tod 1467 eine äußerst umfangreiche, aber auch angesehene Werkstatt unterhielt, in der unter anderem auch sein Bruder Heinrich Multscher wirkte, eine Werkstatt, die im Schwäbisch-Ulmer Raum noch lange nachgewirkt hat. Fassung altersbedingt wohl verschiedentlich rest., nachgedunkelt bzw. eingestimmt. (841381)


Carved Late Gothic figure of a saint, from the workshop circle of Hans Multscher, ca. 1460 Reichenhofen - 1467 Ulm
Height: 100 cm.
This object has been individually compared to the information in the Art Loss Register data bank and is not registered there as stolen or missing.
Votre assistant d'art personnel
Vous voulez être informé quand dans nos prochaines ventes aux enchères une œuvre d'art similaire sera proposée? Veuillez activer votre assistant d'art personnel.