Vente

Meubles & aménagements
Votre assistant d'art personnel
Voulez-vous acheter un objet similaire?
Nous vous informons volontiers si des objets similaire vendus dans une de nos prochaines vente aux enchères.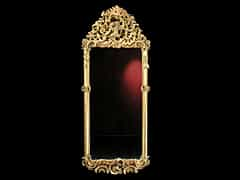 25
Spiegel
Hoher Schlossspiegel. Holzgeschnitzt, gefasst und vollvergoldet. Das Gold größtenteils durchgerieben, sodass der rötliche Bolus sichtbar wird. Überreiche Schnitzerei des Aufsatzes mit C-Voluten, Rocaillen, Blüten- und Blattdekor in tiefer Schnitzart. Der Spiegelrahmen seitlich belegt mit Blüten- und Blattmotiven. Der untere Bereich ebenso mit durchbrochen gearbeiteten Rocaillen, Blattwerk und Voluten versehen. Neuzeitliches Glas, verkürzt.

Höhe: ca. 204 cm. Breite: ca. 81 cm.
18. Jahrhundert.
(652146)
Prix de catalogue € 15.000 - 18.000 Prix de catalogue€ 15.000 - 18.000 $ 16,350 - 19,620
£ 13,500 - 16,200
元 118,650 - 142,380
₽ 1,424,250 - 1,709,100
This object has been individually compared to the information in the Art Loss Register data bank and is not registered there as stolen or missing.
Votre assistant d'art personnel
Vous voulez être informé quand dans nos prochaines ventes aux enchères une œuvre d'art similaire sera proposée? Veuillez activer votre assistant d'art personnel.