Il Vostro Art Agent personale
Volete acquistare un oggetto simile?
Volentieri Vi teniamo aggiornati, quando opere simili verranno offerte in una delle nostre prossime aste.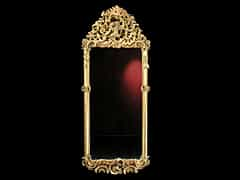 25
Spiegel
Hoher Schlossspiegel. Holzgeschnitzt, gefasst und vollvergoldet. Das Gold größtenteils durchgerieben, sodass der rötliche Bolus sichtbar wird. Überreiche Schnitzerei des Aufsatzes mit C-Voluten, Rocaillen, Blüten- und Blattdekor in tiefer Schnitzart. Der Spiegelrahmen seitlich belegt mit Blüten- und Blattmotiven. Der untere Bereich ebenso mit durchbrochen gearbeiteten Rocaillen, Blattwerk und Voluten versehen. Neuzeitliches Glas, verkürzt.

Höhe: ca. 204 cm. Breite: ca. 81 cm.
18. Jahrhundert.
(652146)
Prezzo del catalogo € 15.000 - 18.000 Prezzo del catalogo€ 15.000 - 18.000 $ 16,350 - 19,620
£ 13,500 - 16,200
元 118,650 - 142,380
₽ 1,424,250 - 1,709,100
This object has been individually compared to the information in the Art Loss Register data bank and is not registered there as stolen or missing.
Il Vostro Art Agent personale
Volete essere informati quando nelle nostre prossime aste un'opera d'arte simile viene offerta? Attivate qui il Vostro Art Agent personale.