Vente

Sculptures et arts décoratifs
Votre assistant d'art personnel
Voulez-vous acheter un objet similaire?
Nous vous informons volontiers si des objets similaire vendus dans une de nos prochaines vente aux enchères.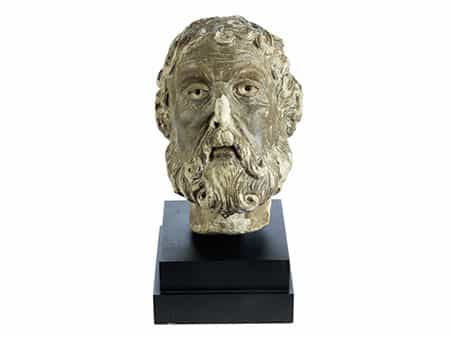 187
Seltener musealer Apostelkopf
Höhe: 20 cm.
Breite: 11 cm.
Frankreich, Anfang 15. Jahrhundert.
Prix de catalogue € 5.000 - 6.000 Prix de catalogue€ 5.000 - 6.000 $ 4,950 - 5,940
£ 4,500 - 5,400
元 35,100 - 42,120
₽ 303,500 - 364,200
In Ton modelliert, grau-braune Farbfassung bzw. Alterspatina. Fragment einer Ganzfigur. Bärtig dargestellt, mit aufmerksam offenem Blick, die Pupillen gebohrt, Lippen leicht geöffnet. Lippen- und Kinnbart seitlich zu betonten Locken eingekringelt, entsprechende Behandlung des Kopfhaares. Modern gesockelt. Nasenspitze angeschlagen. (1120052) (11)
This object has been individually compared to the information in the Art Loss Register data bank and is not registered there as stolen or missing.
Votre assistant d'art personnel
Vous voulez être informé quand dans nos prochaines ventes aux enchères une œuvre d'art similaire sera proposée? Veuillez activer votre assistant d'art personnel.