Votre assistant d'art personnel
Voulez-vous acheter un objet similaire?
Nous vous informons volontiers si des objets similaire vendus dans une de nos prochaines vente aux enchères.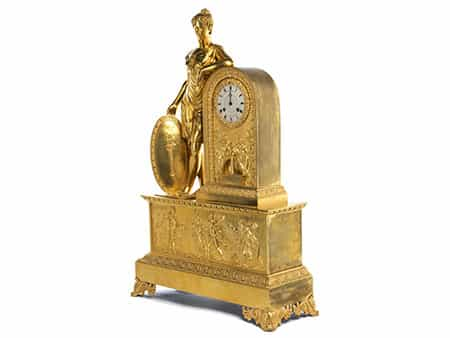 422
Große Kaminuhr mit Personifikation des Friedens
Höhe: 72 cm.
Breite: 48,5 cm.
Tiefe: 18,5 cm.
Prix de catalogue € 2.000 - 3.000 Prix de catalogue€ 2.000 - 3.000 $ 2,160 - 3,240
£ 1,800 - 2,700
元 14,920 - 22,380
₽ 167,520 - 251,280
WERK
Achttagegehwerk, Pendel mit Fadenaufhängung, Halbstunden- und Stundenschlossscheibenschlagwerk auf Glocke.

FUNKTIONEN
Stunden- und Minutenzeiger (Minutenzeiger fehlend) gebläuter Stahl.

GEHÄUSE
Bronze, vergoldet. Der rechteckige Sockel auf Volutenfüßen zur hohen Frieszone durch akanthusblattbesetzten Sockel überleitend. Die Frieszone in flachem Relief dekoriert mit einer Szene aus der Herkulessage. Darüber der hohe Uhrenkasten mit rundbogigem Abschluss, besetzt in flachem Relief mit Flussgottheiten, Akanthusblatt und reich verziertem Blütenkranz. Am Relief lehnt die Personifikation des Friedens mit zerbrochenem Schwert und Schild. Vergoldung minimal berieben und rest.

ZIFFERBLATT
Versilbertes Zifferblatt mit römischen Ziffern, das Mittelfeld graviert.

ZUSTAND
Gebrauchssp. Nicht auf Funktionsfähigkeit getestet. Ein Pendel vorhanden. Kein Schlüssel vorhanden und Minutenzeiger fehlend. (1040862) (14)


Large mantle clock with the personification of peace
Height: 72 cm.
Width: 48.5 cm.
Depth: 18.5 cm.

Signs of wear. Working order not tested. With one pendulum. Key and minute hand missing.
Votre assistant d'art personnel
Vous voulez être informé quand dans nos prochaines ventes aux enchères une œuvre d'art similaire sera proposée? Veuillez activer votre assistant d'art personnel.