Your search for Peter Angellis in the auction
16th - 18th Century Paintings

Thursday, 25 September 2014
Your personal art agent
You are interested in works by Peter Angellis?
We are happy to inform you, if works by Peter Angellis are to be auctioned in one of our upcoming auctions.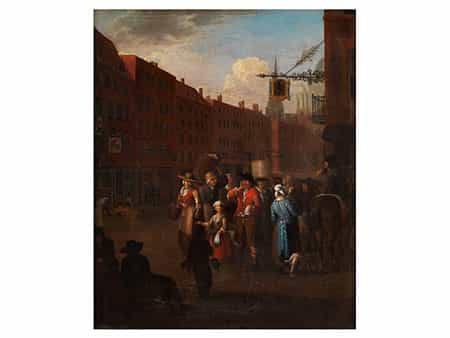 673
Peter Angellis,
1685 Dünkirchen – 1734 Rennes, zug.
LONDONER STRASSENSZENE MIT EINEM LOSVERKÄUFER Öl auf Leinwand.
61 x 50 cm.
In originalem Rahmen.
Catalogue price € 2.000 - 4.000 Catalogue price€ 2.000 - 4.000 $ 2,080 - 4,160
£ 1,800 - 3,600
元 13,980 - 27,960
₽ 108,600 - 217,200
Blick auf einen Straßenplatz mit nach rechts hinten verlaufendem Straßenzug mit Häuserzeile. Am rechten Bildrand eine Häuserkante mit weit vortretenden Ausleger mit Wappenschild, ähnlich der sämtlichen eisernen Ausleger an den Fassaden gegenüber. Im Mittelgrund eine vielfigürliche Ansammlung von Personen, zum Teil mit geschultertem Korb, rechts ein Marktschreier auf einem Pferd in Begleitung eines Hundes. Im Zentrum der Gruppe ein invalider Losverkäufer, der mehrere Lose in der Hand zum Verkauf bereit hält, das rechte, fehlende Bein auf einer Holzstütze. Rechts oben, über den Häusergiebeln ist die Kuppel mit einem der Seitentürme der St. Pauls Kathedrale zu erkennen. (982116) (11)
Your personal art agent
You would like to be informed of upcoming auctions if a work by Peter Angellis is offered? Activate your personal art agent here.