Your personal art agent
You would like to purchase a similar object?
We are happy to inform you, if similar works are to be auctioned in one of our upcoming auctions.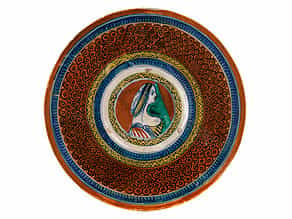 996
Majolika-Teller mit Bella Donna-Darstellung
Durchmesser: 23 cm.
Faenza, 16. Jahrhundert.
Catalogue price € 1.500 - 2.500 Catalogue price€ 1.500 - 2.500 $ 1,650 - 2,750
£ 1,350 - 2,250
元 10,635 - 17,725
₽ 139,800 - 233,000
Der Teller flach gemuldet und mit breiter Fahne. Im Spiegel ist eine edle, junge Dame im Profil nach rechts dargestellt. Ihr Haar wird von einem prächtigen Haarnetz zusammengehalten. Ein Mieder schnürt ihre Brust, gebauschte Ärmel runden die Büsten-Darstellung ab. In sieben Registern schließen sich Rahmen um das Frauen-Portrait bis zum Rand. Die Register unterschiedlich breit, mit geometrischen Mustern, wie Schuppenmuster, Bögen und Zickzack. Die Bemalung in Blau, Ocker, Gelb und Grün vor cremeweißem Fond. Bruchrest. und lackiert. (9503314)
Your personal art agent
You would like to be informed of upcoming auctions if a similar work of art is offered? Activate your personal art agent here.