Your search for Armodio in the auction
Modern Art

Friday, 20 September 2013
Your personal art agent
You are interested in works by Armodio?
We are happy to inform you, if works by Armodio are to be auctioned in one of our upcoming auctions.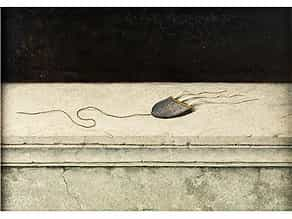 1406
Armodio,

1938 Piacenza


Eigentlich Vilmore Schenardi, lebt und arbeitet in Piacenza. Der Maler besuchte das Istituto d'Arte Gazzola in Pacenza, doch war seine Begegnung mit dem Künstler Luciano Spazzali maßgeblich für seine Entwicklung.
Catalogue price € 5.000 - 7.000 Catalogue price€ 5.000 - 7.000 $ 4,950 - 6,930
£ 4,500 - 6,300
元 35,100 - 49,140
₽ 303,500 - 424,900
CODA, 1988 Tempera auf Holz.
24 x 34 cm.
Mittig signiert "Armodio", verso bezeichnet, datiert und nummeriert "N. 751".
Gerahmt.

Auf einer leicht bestoßenen Steinbank, die parallel zur unteren Bildkante angeordnet ist, liegt ein Papierschweif mit drei feinen Streifen an langem, dünnem Faden. Dieser setzt sich aus dicht aneinandergesetzten Pünktchen zusammen. Bank und Objekt sind naturalistisch vor einer dunklen Hintergrundfolie wiedergegeben.


Verso Etikett der Galleria d'Arte Il Gabbiano. (9401944)
This object has been individually compared to the information in the Art Loss Register data bank and is not registered there as stolen or missing.
Your personal art agent
You would like to be informed of upcoming auctions if a work by Armodio is offered? Activate your personal art agent here.