Your search for Salomone Adler in the auction
16th - 18th Century Paintings

Thursday, 11 April 2013
Your personal art agent
You are interested in works by Salomone Adler?
We are happy to inform you, if works by Salomone Adler are to be auctioned in one of our upcoming auctions.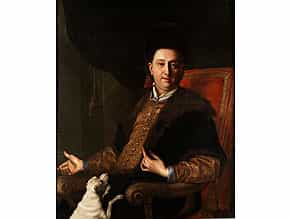 576
Salomone Adler,
ca. 1630 - ca. 1691
PORTRAIT EINES ADELIGEN HERRN MIT WEISSEM HÜNDCHEN Öl auf Leinwand.
113 x 92 cm.
Im alten Rahmen.
Catalogue price € 30.000 - 35.000 Catalogue price€ 30.000 - 35.000 $ 31,200 - 36,400
£ 27,000 - 31,500
元 209,700 - 244,650
₽ 1,629,000 - 1,900,500
Portrait in Lebensgröße, im Halbbildnis auf einem rot bezogenem, hohem Lehnstuhl sitzend wiedergegeben, das Gesicht dem Betrachter zugewandt. Der Dargestellte trägt einen goldbrokatfarbenen Gehrock mit lang herabziehender Knopfleiste, darüber einen dunklen Mantel mit Zobelpelzbesatz sowie eine Zobelmütze, was vermuten lässt, dass es sich hier um einen polnischen Adeligen handeln dürfte. Im Hintergrund grüner Velumvorhand mit links herabhängender Quaste. Die linke Hand ist mit eleganter Fingerhaltung an den Pelz gelegt, die rechte liegt der Lehne auf und weist nach rechts. Das Hündchen in Halbfigur blickt zu seinem Herrn hoch. Äußerst lebensnahe Portraitwiedergabe, die dem Stil Johann Kupetzkis nahesteht. (8909715)


Salomone Adler
ca. 1630 - ca. 1691
PORTRAIT OF A NOBLEMAN WITH WHITE PUPPY DOG
Oil on canvas.
113 x 92 cm.
In old frame.
This object has been individually compared to the information in the Art Loss Register data bank and is not registered there as stolen or missing.
Your personal art agent
You would like to be informed of upcoming auctions if a work by Salomone Adler is offered? Activate your personal art agent here.