Your search for Luigi Agretti in the auction
19th / 20th Century Paintings

Tuesday, 23 March 2010
Your personal art agent
You are interested in works by Luigi Agretti?
We are happy to inform you, if works by Luigi Agretti are to be auctioned in one of our upcoming auctions.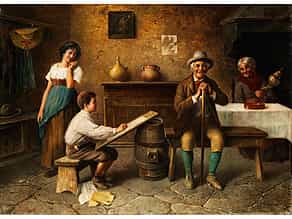 501
† Luigi Agretti,
1875 La Spezia
ERSTE VERSUCHE EINES KÜNSTLERS Öl auf Leinwand.
57 x 79 cm.
Links unten signiert.
Catalogue price € 3.500 - 4.500 Catalogue price€ 3.500 - 4.500 $ 3,640 - 4,680
£ 3,150 - 4,050
元 24,465 - 31,455
₽ 190,050 - 244,350
Inneres eines italienischen Hauses, auf einer Holzbank ein Knabe, der auf einem Zeichenbrett seinen Großvater zu portraitieren versucht, der geduldig auf einer Bank sitzt. Rechts im Hintergrund die Großmutter mit Spinnrocken der Szene erheitert beiwohnend, links die junge Mutter, die aufmerksam das Werk des Knaben betrachtet. Detailreiche Wiedergabe der Interieurausstattung in mildem Licht. (7706620)


Luigi Agretti,
1875 La Spezia
Oil on canvas.
57 x 79 cm.
This object has been individually compared to the information in the Art Loss Register data bank and is not registered there as stolen or missing.
Your personal art agent
You would like to be informed of upcoming auctions if a work by Luigi Agretti is offered? Activate your personal art agent here.