Auction

Sculpture and Works of Art
Your personal art agent
You would like to purchase a similar object?
We are happy to inform you, if similar works are to be auctioned in one of our upcoming auctions.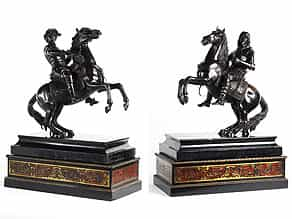 946
Bronzegruppe zweier Reiter
Höhe der Bronzen: 55 cm.
19. Jahrhundert.
Catalogue price € 8.000 - 9.000 Catalogue price€ 8.000 - 9.000 $ 7,920 - 8,910
£ 7,200 - 8,100
元 56,160 - 63,179
₽ 485,600 - 546,300
Reiter in Rüstung auf steigenden Pferden reitend. Dunkelbraune bis schwärzliche Patina. Auf rechteckiger Holzplinthe montiert. Dazu jeweils Sockel
mit leichten Messingleisten. (7605640)
This object has been individually compared to the information in the Art Loss Register data bank and is not registered there as stolen or missing.
Your personal art agent
You would like to be informed of upcoming auctions if a similar work of art is offered? Activate your personal art agent here.