Your personal art agent
You would like to purchase a similar object?
We are happy to inform you, if similar works are to be auctioned in one of our upcoming auctions.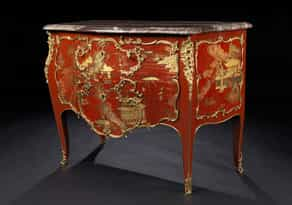 82
Bedeutende und seltene Louis XV-Lackkommode mit Chinoiserie-Dekor von Mathieu Criaerd
Höhe: 84 cm.
Breite: 113,5 cm.
Tiefe: 59 cm.
Das Möbel ist zusätzlich gestempelt "JME".
Paris, um 1745.
Catalogue price € 145.000 - 165.000 Catalogue price€ 145.000 - 165.000 $ 152,250 - 173,250
£ 130,500 - 148,500
元 1,062,850 - 1,209,450
₽ 9,577,250 - 10,898,250
Die äußerst seltene und fein gearbeitete Kommode präsentiert sich in höchst eleganter Erscheinung mit roter Lackfassung über Innenaufbau in Eiche. Die Chinoiserie-Malereien in Goldfarben, mit feinen schwarzen Konturen. Die zweischübige Front leicht bombiert, die schräggestellten Ecken ziehen in halbhohe Vierkantbeine ein, die an den durchbrochenen, feinen Sabots leicht ausschwingen. Im Bereich des oberen Schubes seitlich leichte Einziehung der Ecken, besetzt mit durchbrochenen Bronzeapplikationen im Rocaille-Dekor. Die beiden Schübe dekorativ als Gesamtbild zusammengefasst, mit locker verteilten Pavillons, Schiffen und Pagoden zwischen Bäumen und Blattwerk. Das Bildganze von feinen geschweiften Rahmungen in vergoldeter Bronze eingefasst, vielfach geschweift, nach unten zungenförmig herabgeführt mit zentralen, in der Mitte symmetrisch zusammengeführten C-Bögen mit hochsteigenden Blättern. Über die Bildfläche hinweg mittig aufgelegte, 8-förmige Kartuschen-Binnenrahmung in zarten, krausen Rocaille-Formen, mit kleinen vorschwingenden Bögen, die als Henkel dienen. Die Seiten des Möbels leicht nach hinten ausschwingend, ebenfalls mit einem zart gerahmten Chinoiserie-Bild besetzt, mit entsprechenden Pagoden und landschaftlichen Darstellungen. Die Marmorplatte aubergine-braun und rötlich-grau in diagonal verlaufenden, parallelen Bänderungen gemasert, was zeigt, dass nicht nur eine äußerst seltene, sondern in der Maserung auch ausgesucht passende Sorte Verwendung fand. Die Kanten gerundet und mit feinem Hohlkehlenprofil bearbeitet.

Anmerkung I:
Während Schwarzlackmöbel der Zeit häufig auftreten, sind Rotlack-Kommoden relativ selten. In den letzten drei Jahrzehnten sind bislang in internationalen Auktionen nicht wesentlich mehr als allenfalls fünf bis sechs derartige Rotlack-Kommoden verauktioniert worden (zumeist Sotheby's Monaco). Eine weitere Rotlack-Kommode findet sich im J.-Paul Getty-Museum.

Anmerkung II:
Der Ebenist Mathieu Criaerd, 1689-1776, wurde am 29. Juli 1738 zum Gildemeister erhoben. Seine Werkstatt befand sich in der Rue Travestière-St. Antoine. Er gilt als der talentierteste der weit verzweigten Ebenisten-Familie und arbeitete wohl auch für den berühmten Ebenisten Jean François Oeben. Das Möbelwerk von Criaerd weist zumeist Kommoden auf, die den Stil der ersten Hälfte des 18. Jahrhunderts präsentieren. Die schlichte Eleganz dieser frühen Stilperiode übertrug er auch auf die Möbel der Zeit Louis XV, was seinem späteren Werk die besondere Note ruhiger Auffassung verleiht. Die vergoldeten Bronzeapplikationen sind mit größter Wahrscheinlichkeit nach Modellen geschaffen, die im Besitz des Marchand-Mercier Thomas-Joachim Hébert waren, der zwischen 1714 - 1750 wirkte. Hébert war Hoflieferant, der wahrscheinlich durch die Comtesse de Mailly an Louis XV empfohlen worden war, und auf Chinoiserie-Möbel spezialisiert war, insbesondere solche mit Lackmalereien. Das erste Objekt, das er an den Hof geliefert hat, ist als ein Lackmöbel für das Kabinett der Königin in Fontainebleau dokumentiert, geschaffen 1737 von Bernard II. van Riesenburgh, (''B.V.R.B.''), nach 1696 - um 1766. Die Literatur überliefert, dass Criaerd mit Bronzeapplikationen von Hébert beliefert wurde. Die Eckapplikationen der vorliegenden Kommode wurden erstmals von Mathieu Criaerd für die sog. Vernis-Martin-Kommode des Blauen Zimmers im Château des Choisy, 1742, verwendet, die sich heute im Louvre-Museum befindet. Interessanterweise finden sich die gleichen Knie-Applikationen an einer Kommode, ebenfalls von Hébert und ausgeführt von Criaerd, hergestellt 1785 für das Kabinett des Dauphins in Versailles. Die Kommode befindet sich noch immer in Versailles.

Literatur:
D. Alcouffe, A. Dion-Tenenbaum, A. Lefèbrure, Le mobilier du musée de Louvre. Band I, 1993. P. Kjellberg, Le mobilier français du XVIII siècle. Les Editions de l'Amateur, Paris 1989. (740462)
This object has been individually compared to the information in the Art Loss Register data bank and is not registered there as stolen or missing.
Your personal art agent
You would like to be informed of upcoming auctions if a similar work of art is offered? Activate your personal art agent here.