Your search for Jan Brueghel der Jüngere in the auction
Paintings 16th - 18th Century

Friday, 26 June 2009
Your personal art agent
You are interested in works by Jan Brueghel der Jüngere?
We are happy to inform you, if works by Jan Brueghel der Jüngere are to be auctioned in one of our upcoming auctions.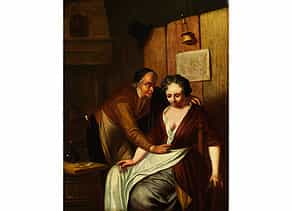 303
Flämischer Maler des 17. Jahrhunderts
GALANTE SZENE IN DER WIRTSSTUBEÖl auf Holz.
33,5 x 26,5 cm.
Catalogue price € 3.000 - 3.500 Catalogue price€ 3.000 - 3.500 $ 3,120 - 3,640
£ 2,700 - 3,150
元 20,970 - 24,465
₽ 162,900 - 190,050
Ein älterer Herr hat einer jungen Frau seinen Arm um die Schulter gelegt, während er offenbar seine Überredungskünste anzuwenden sucht, blickt sie etwas betroffen zu Boden. Sie sitzt vor einer Holzwand, an der eine Grafik und ein Hut hängen. Links hinten ist ein Kamin zu erkennen, vorne links ein Weinfass, das als Tisch dient. (740416)
This object has been individually compared to the information in the Art Loss Register data bank and is not registered there as stolen or missing.
Your personal art agent
You would like to be informed of upcoming auctions if a work by Jan Brueghel der Jüngere is offered? Activate your personal art agent here.