Your search for Jan Brueghel der Jüngere in the auction
Collection Paintings & Sculpture

Friday, 5 December 2008
Your personal art agent
You are interested in works by Jan Brueghel der Jüngere?
We are happy to inform you, if works by Jan Brueghel der Jüngere are to be auctioned in one of our upcoming auctions.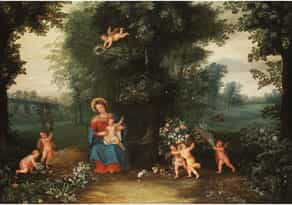 154
Jan Brueghel der Jüngere,
1601 Antwerpen - 1678
und Peter van Avont, 1600 - 1652,
in Art der Künstlerwerkstatt derselben
MARIA MIT DEM KIND IN BAUMLANDSCHAFT
Catalogue price € 25.000 - 30.000 Catalogue price€ 25.000 - 30.000 $ 26,000 - 31,200
£ 22,500 - 27,000
元 174,750 - 209,700
₽ 1,357,500 - 1,629,000
Öl auf Holz. Doubliert.
84 x 121 cm.


Das religiöse Thema, in mehrfacher Hinsicht allegorisiert, ist als "Maria mit dem Kind unter einem Birnbaum" anzusehen. Das Zentrum des Gemäldes bildet ein hochragender Birnbaum mit Früchten. Links daneben auf der Baumwurzel Maria mit dem Kind auf dem Schoß sitzend. Das Kind hält eine Frucht hoch und blickt dem Betrachter entgegen. Aus der Krone des Baumes herabfliegender Engel, der Maria einen Blütenkranz zuweist. Die zentrale Figurengruppe umgeben von Putti, die mit ihren Gaben die Jahreszeiten allegorisieren: ganz rechts ein geflügelter Putto mit einem Ährenbündel, daneben zwei weitere mit einem Früchtekorb, im linken Bildteil zwei Putten mit Weintrauben. Die Hintergrundlandschaft bietet zu beiden Seiten des Baumes Durchblicke in die Ferne. Rechts ein auf einem Weg schreitender Mann mit Esel, der wohl als Heiliger Josef zu deuten ist. Am linken wie am rechten Bildrand als Repoussoir hochragende Bäume, der linke Baum mit Pomeranzen behangen, unter dem rechten Baum ein distelartiges Gewächs. Am Boden mehrere Fruchtzweige verstreut, die der Zeit entsprechend allegorisch zu deuten wären. (7200711)
This object has been individually compared to the information in the Art Loss Register data bank and is not registered there as stolen or missing.
Your personal art agent
You would like to be informed of upcoming auctions if a work by Jan Brueghel der Jüngere is offered? Activate your personal art agent here.