Your search for Andrea Il Vecchio Appiani in the auction
Paintings

Friday, 4 July 2008
Your personal art agent
You are interested in works by Andrea Il Vecchio Appiani?
We are happy to inform you, if works by Andrea Il Vecchio Appiani are to be auctioned in one of our upcoming auctions.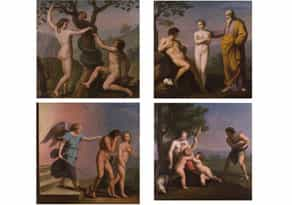 371
Andrea Ie Vecchio Appiani, zug.
1754 Mailand - 1817 Mailand
BILDERSERIE VON VIER DARSTELLUNGEN AUS DEM BIBLISCHEN ADAM UND EVA-THEMA
Catalogue price € 22.000 - 25.000 Catalogue price€ 22.000 - 25.000 $ 22,880 - 26,000
£ 19,800 - 22,500
元 153,780 - 174,750
₽ 1,194,600 - 1,357,500
Jeweils Öl auf Leinwand. Doubliert.
Jeweils ca. 54,5 x 44 cm.
Verglast und in vergoldetem Rahmen.


Jeweils nahezu quadratische Gemälde in neoklassizistischem Stil. Die Erschaffung Evas: Gottvater führt dem unter einem Baum sitzenden Adam die jugendliche, nackt dargestellte Eva vor. Der Sündenfall: Adam und Eva unter einem Baum, um den sich eine menschenköpfige Schlange windet. Die Vertreibung aus dem Paradies: Der Engel mit Schwert und großen Flügeln weist von einer Treppe herabsteigend das Paar in die dunkle Zukunft.

Das bäuerliche Leben: Adam in härener Kleidung, links unter einem Baum die ebenfalls bekleidete Eva mit einem Spinnroggen mit ihren Söhnen Kain und Abel. Am Bildrand ein Lamm. (701546)

This object has been individually compared to the information in the Art Loss Register data bank and is not registered there as stolen or missing.
Your personal art agent
You would like to be informed of upcoming auctions if a work by Andrea Il Vecchio Appiani is offered? Activate your personal art agent here.