Your search for Marco Ricci in the auction
Paintings

Friday, 4 July 2008
Your personal art agent
You are interested in works by Marco Ricci?
We are happy to inform you, if works by Marco Ricci are to be auctioned in one of our upcoming auctions.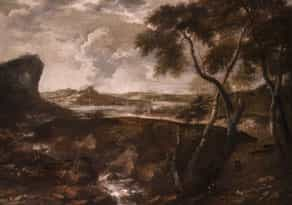 251
Marco Ricci,
1676 Belluno - 1729 Venedig
GROSSE FLUSSLANDSCAHFT MIT BACHKASKADE, RUINEN UND FIGURENSTAFFAGE
Catalogue price € 250.000 - 300.000 Catalogue price€ 250.000 - 300.000 $ 260,000 - 312,000
£ 225,000 - 270,000
元 1,747,500 - 2,097,000
₽ 13,575,000 - 16,290,000
Öl auf Leinwand.
190 x 260 cm.
In geschnitztem und vergoldetem Rahmen.


Große, raumgreifende Landschaft, die von einer Hochebene aus einen weiten Blick auf einen Fluss mit dahinter aufsteigenden Bergen bietet. Die rechte Bildhälfte beherrscht von schlanken, in bewegtem Verlauf nach oben ziehenden Bäumen mit spätsommerlich-frühherbstlichem Laub. Das Plateau im Vordergrund leicht verschattet, mit einem Bachlauf, der in wilder Strömung in Kaskaden herabläuft. An der rechten Seite rastende Jäger mit ihren Hunden und ein auf einem Maultier reitender Herr mit breitkrempigem Hut. Im linken Bildteil Fischer am steinigen Bachufer. Der landschaftliche Hintergrund mit Flusslauf vom dunkleren Vordergrund kulissenhaft gerahmt, steht in hellerem Licht. Hier führt der Maler eine Reihe von Uferbauten, kleinen, burgartigen Gebäuden, Schlösschen und Ruinen vor, mit Figurenstaffage am Ufer. Im Hintergrund felsige Berge, die bis zum Horizont führen. Die gebauschten, teilweise durchlichteten Wolken entsprechen der Lichtstimmung des gesamten Bildes.

Anmerkung:
Dem Gemälde ist eine Expertise von Professor Giuseppe Maria Pilo beigegeben, vom 13.4.2008, mit Literaturverweis:
G.M. Pilo, Marco Ricci, Venedig, Edizione Alfieri, 1963, S. 54 - 55, Nr. 34.
E. Martini, La Pittura Veneziana dell´700, Venedig, Edizioni Marchiane, 1964, S. 107,Tafel 74.

Werkverzeichnis:
Das Gemälde ist im Werkverzeichnis aufgeführt
und abgebildet.

Provenienz:
Ehemals Palazzo Grassi, Venedig. (7020224)

This object has been individually compared to the information in the Art Loss Register data bank and is not registered there as stolen or missing.
Your personal art agent
You would like to be informed of upcoming auctions if a work by Marco Ricci is offered? Activate your personal art agent here.