Your personal art agent
You would like to purchase a similar object?
We are happy to inform you, if similar works are to be auctioned in one of our upcoming auctions.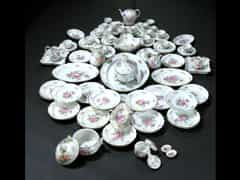 997
Großes Meissener Porzellanservice
Das Service bestehend aus: Großer Kaffeekanne, Mokkakanne und Teekanne, zwölf großen Tassen, zehn Mokkatassen, 22 großen Tellern, zwölf kleinen Tellern und zwölf mittelgroßen Tellern. Zwei Deckelterrinen, eine Saucière, zwei Rundplatten, Milch- und Wasserkännchen, Beistellschälchen, einer sehr großen ovalen Platte, zwei mittelgroßen ovalen Platten und zwei kleinen ovalen Platten. Drei quadratisch gebogte Platten sowie einer großen Salatschale. Alle Teile mit feiner Blüten- und Blattmalerei sowie Applikationen. Randvergoldungen. Schwertermarke in Unterglasurblau jeweils mit zwei Schleifstrichen.
H. der Kaffeekanne: 25 cm.
Meissen, Ende 19./Anfang 20. Jhdt.
(630671)
Catalogue price € 2.000 - 2.400 Catalogue price€ 2.000 - 2.400 $ 2,100 - 2,520
£ 1,800 - 2,160
元 14,660 - 17,592
₽ 132,100 - 158,520
Your personal art agent
You would like to be informed of upcoming auctions if a similar work of art is offered? Activate your personal art agent here.