Your search for Max Liebermann in the auction
Max Liebermann

Thursday, 22 September 2005
Your personal art agent
You are interested in works by Max Liebermann?
We are happy to inform you, if works by Max Liebermann are to be auctioned in one of our upcoming auctions.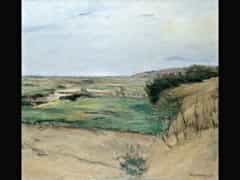 30
Max Liebermann,
1847-1935 Berlin
DÜNNENLANDSCHAFT (1912)
Catalogue price € 120.000 - 140.000 Catalogue price€ 120.000 - 140.000 $ 132,000 - 154,000
£ 108,000 - 126,000
元 850,800 - 992,600
₽ 11,184,000 - 13,048,000
Öl auf Leinwand
65 x 71 cm
Bez. rechts unten: M Liebermann 1912
Werkverzeichnis Nr. 1912/23

DUNE LANDSCAPE (1912)

Oil on canvas
25,6 x 27,9 in.
Signed and dated lower right:
M Liebermann 1912
Catalogue raisonné n° 1912/23

Rückseitige Aufkleber und Notizen:
Rechts oben Klebezettel der Kunsthandlung Paul Cassirer: "Liebermann, Landschaft, Nr. 19282"; ein Klebezettel der Galerie Thannhauser links oben mit der Nummer: "4785".

Provenienz:
Galerie Thannhauser, München (1916); M. Goldschmidt, Frankfurt am Main (verkauft an Paul Cassirer am 10.2.1926); Paul Cassirer, Berlin (1926, PC Nr. 19282, zurück an M. Goldschmidt); Marcus Goldschmidt, Frankfurt am Main (1927); Lempertz, Köln (1956); Galerie Koller, Zürich (1984); Galerie Pels-Leusden, Berlin (1986); Sammlung Hans-Georg Karg.

Ausstellung:
Katalog der Modernen Galerie Heinrich Thannhauser, München 1916, Nr. 99, Abb.; Max Liebermann, Werke aus Frankfurter Privatbesitz, Galerie Goldschmidt, Frankfurt am Main, Dez. 1927, Nr. 38, Abb.; Lempertz, 445. Auktion, Köln 15. - 17.5.1956, Nr. 167, Abb. Taf. 19 (dort irrtümlich "1915" datiert); Galerie Koller, Auktion 53/2, Zürich 27.11. - 1.12.1987, Nr. 5149, Farbabb. Taf. 23.

Literatur:
Kunst und Künstler, Jg. XV, Heft 10, Juli 1917, Abb. S. 494; Richardson, 1991, II., S. 195, Nr. 554; Eberle 1996, Bd. 2, S. 841, Farbtaf. S. 843, WV 1912/23. Blick von den Dünen bei Noordwijk in das Landesinnere. Den Vordergrund bildet der helle Sandboden, im Mittelgrund liegen rechteckig angelegte Felder und Beete, im Hintergrund erstrecken sich Wiesen. Aus dem frischen Grün dieser Zone leuchten hier und da helle Sandflächen. Der Himmel wird von leichten, weißen Wolken überzogen, hier und dort bricht das Sonnenlicht durch. Es ist eine weite, friedvolle Landschaft ohne jeden Hauch von Melancholie, den man in Max Liebermanns Dünenbildern aus den 80er Jahren des 19. Jahrhunderts so oft findet ("Karre in den Dünen" 1889, Hamburger Kunsthalle; "Frau mit Ziegen" 1890, Neue Pinakothek, München). Die differenzierte Malerei dieser unspektakulären Landschaft, die doch so reich an feinsten Nuancen ist, macht dieses Bild sicherlich zu einer der reifesten Schöpfungen aus dieser Schaffensphase. Ein ganz ähnliches Bild aus demselben Jahr befindet sich in der Neuen Pinakothek, München (Inv. Nr. 8711). (5906013)
This object has been individually compared to the information in the Art Loss Register data bank and is not registered there as stolen or missing.
Your personal art agent
You would like to be informed of upcoming auctions if a work by Max Liebermann is offered? Activate your personal art agent here.