Auction

March Auction Part I.
Your personal art agent
You would like to purchase a similar object?
We are happy to inform you, if similar works are to be auctioned in one of our upcoming auctions.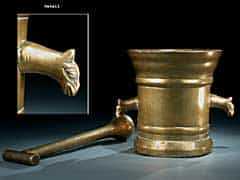 617
Apothekenmörser
Zylinderförmig mit umlaufenden Wulstbändern und sich weitender Mündung. Seitlich langhalsige Tierköpfe als Tragehenkel in feiner ziselierter Ausbildung mit originalem Krückenpistill. H.: 17,5 cm. Oberer D.: 16 cm. Pistill L.: 27 cm. Niedersachsen, um 1580. (531383)
Catalogue price € 2.800 - 3.400 Catalogue price€ 2.800 - 3.400 $ 3,080 - 3,740
£ 2,520 - 3,060
元 19,852 - 24,106
₽ 260,960 - 316,880
This object has been individually compared to the information in the Art Loss Register data bank and is not registered there as stolen or missing.
Your personal art agent
You would like to be informed of upcoming auctions if a similar work of art is offered? Activate your personal art agent here.