Your personal art agent
You would like to purchase a similar object?
We are happy to inform you, if similar works are to be auctioned in one of our upcoming auctions.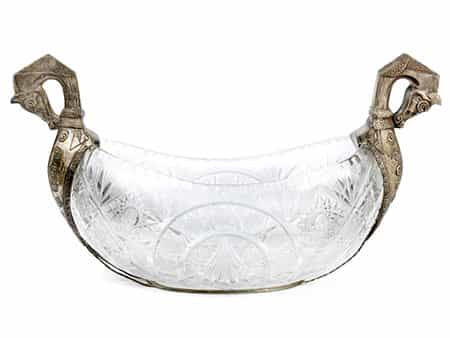 174
Russische Kristallschale mit Silberhenkeln
Höhe mit Henkeln: 23 cm.
Breite: 43,5 cm.
Der silberne, dünne Standring zweifach gestempelt mit 84er Silbermarke und Meistermarke "RA" in kyrillisch.
Um 1900.
Catalogue price € 2.000 - 4.000 Catalogue price€ 2.000 - 4.000 $ 1,980 - 3,960
£ 1,800 - 3,600
元 14,040 - 28,080
₽ 121,400 - 242,800
Die reich geschliffene, ovale Kristallschale mit glattem Rand, u.a mit Schleudersternen verschiedener Größen verziert. Seitliche Griffe als stilisierte Pferdeköpfe ausgearbeitet und unterhalb der Schale mit dem Standring verbunden. Die gebogenen Pferdeköpfe und deren angedeutete Brustpartie sind reich verziert mit punzierten Mustern und Kreisen und könnten aus Illustrationen russischer Märchen und Sagen stammen.
(1160091) (18)
Your personal art agent
You would like to be informed of upcoming auctions if a similar work of art is offered? Activate your personal art agent here.