Auction

Silver, Glass, Jewellery & Russian art
Your personal art agent
You would like to purchase a similar object?
We are happy to inform you, if similar works are to be auctioned in one of our upcoming auctions.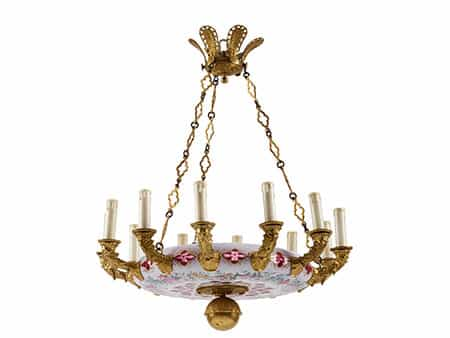 255
Sankt Petersburger Lüster
Sankt Petersburg und Böhmen, um 1860.
Catalogue price € 12.000 - 15.000 Catalogue price€ 12.000 - 15.000 $ 11,880 - 14,850
£ 10,800 - 13,500
元 84,240 - 105,300
₽ 728,400 - 910,500
Rubinglas, weiß überfangen, mit polychromer Kalkbemalung sowie ziseliertem vergoldeten Bronzedekor. Die zwölf Brennstellen als Maskarons gestaltet und mit Elektrifizierung versehen. Die vergoldeten Bronzearbeiten wohl der Sankt Petersburger Hofwerkstatt zuzuschreiben. An neogotischer Gliederkette zur Deckenhalterung aufgehangen. Wenige Alters- und Gebrauchssp. (11509810) (13)
This object has been individually compared to the information in the Art Loss Register data bank and is not registered there as stolen or missing.
Your personal art agent
You would like to be informed of upcoming auctions if a similar work of art is offered? Activate your personal art agent here.