Votre assistant d'art personnel
Voulez-vous acheter un objet similaire?
Nous vous informons volontiers si des objets similaire vendus dans une de nos prochaines vente aux enchères.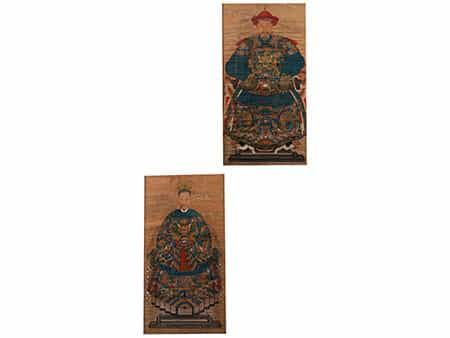 499
Gemäldepaar
PORTRAITS EINES HERRSCHERPAARES DER QING-DYNASTIE/ QIANLONG, 1736 – 1795 Tempera/ Gouache auf Karton (altersbedingt etwas wellig, mit Altersflecken).
Sichtmaß: je 136 x 74 cm.
Prix de catalogue € 10.000 - 12.000 Prix de catalogue€ 10.000 - 12.000 $ 10,800 - 12,960
£ 9,000 - 10,800
元 74,600 - 89,520
₽ 837,600 - 1,005,120
Dargestellt sind ein Herrscher und seine Gemahlin, jeweils frontal zum Betrachter thronend, in reich dekorierten Gewändern, mit den entsprechenden symbolischen Darstellungen. Der Herrscher mit Gebetskette, roter Kopfbedeckung und türkisfarbenem Mantel. Im Gegenstück ist die Gemahlin mit entsprechendem Mantel gezeigt, das Haupt bekrönt mit einem Diadem mit seitlich herabhängenden Perlenketten. (9812016) (11)


Pair of paintings

Portraits of a sovereign couple of the Qing dynasty/ Qianlong, 1736 – 1795

Tempera/ Gouache on cardboard (a little wavy due to its age and age marks).
Sight size: 136 x 74 cm each.
This object has been individually compared to the information in the Art Loss Register data bank and is not registered there as stolen or missing.
Votre assistant d'art personnel
Vous voulez être informé quand dans nos prochaines ventes aux enchères une œuvre d'art similaire sera proposée? Veuillez activer votre assistant d'art personnel.