Votre assistant d'art personnel
Voulez-vous acheter un objet similaire?
Nous vous informons volontiers si des objets similaire vendus dans une de nos prochaines vente aux enchères.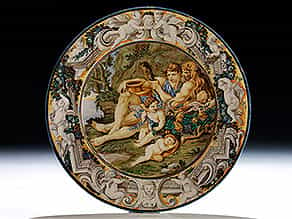 1512
Majolika-Platte von Carlo Antonio Grue,
1655 - 1723
Durchmesser: 34 cm.
Castelli, Ende 17./ Anfang 18. Jahrhundert.
Prix de catalogue € 60.000 - 70.000 Prix de catalogue€ 60.000 - 70.000 $ 64,800 - 75,600
£ 54,000 - 63,000
元 447,600 - 522,200
₽ 5,025,600 - 5,863,200
Die Platte gemuldet und mit breiter Fahne. Die Istoriato- Szene im Spiegel wird in der Literatur mit Herkules und seiner Frau Deianeira identifiziert. Die beiden sind an einem Abhang lagernd dargestellt, links öffnet sich der Blick auf das Meer. Deianeira hat ihren Arm auf ein großes Gefäß zur Weinlagerung aufgelegt, Herkules ist mit seinen Attributen Löwenmantel und Keule wiedergegeben. Vor ihnen sind drei Putten mit einem Fruchtgebinde zugange. Die Fahne präsentiert sich als architektonischer Rahmen um die Szene. Weitere Putti in Grisaille und Blüten-Girlanden bereichern den Rahmen vor gelbem Fond. Die Bemalung in Gelb, Mangan, Schwarz, Grün und Blau vor weißem Fond. Glasurchips am Rand.

Provenienz:
Sammlung Lavatelli, Turin (bodenseitig kleiner Aufkleber).

Literatur:
Ganzseitig in Schwarz-Weiß abgebildet in: Katalog Mostra dell'antica maiolica abruzzese, Neapel, Teramo, 1955, Tav. XXXIX, Kat. Nr. 77. (9603210)


Maiolica dish by Carlo Antonio Grue,
1655 - 1723
Diameter: 34 cm. Chips.
Castelli, Late 17th/ Early 18th century.

Literature:
Full-page monochrome illustration in: Catalogue, L'antica maiolica abruzzese, Naples, Teramo, 1955, plate XXXIX, cat. no. 77.
This object has been individually compared to the information in the Art Loss Register data bank and is not registered there as stolen or missing.
Votre assistant d'art personnel
Vous voulez être informé quand dans nos prochaines ventes aux enchères une œuvre d'art similaire sera proposée? Veuillez activer votre assistant d'art personnel.