Votre assistant d'art personnel
Voulez-vous acheter un objet similaire?
Nous vous informons volontiers si des objets similaire vendus dans une de nos prochaines vente aux enchères.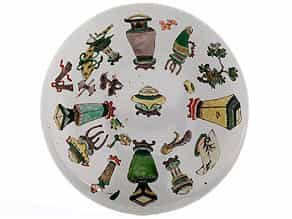 374
Kangxi-Schale
Höhe: 7,5 cm.
Durchmesser: 22,4 cm.
Sechszeichenmarke
China, 1662 - 1722.
Prix de catalogue € 5.000 - 7.000 Prix de catalogue€ 5.000 - 7.000 $ 5,400 - 7,560
£ 4,500 - 6,300
元 37,300 - 52,220
₽ 418,800 - 586,320
Auf ca. 1 cm hohem Fußring eine tief gemuldete Schale aus feinem Porzellan. Im Spiegel das Dekor mit "Bo gu"-Motiven (Einhundert antike Objekte) vor weißem Fond, die die Wandung entlang um ein zentrales Gefäß arrangiert sind. Dazwischen sind Pflanzen, teils in Vasen gestreut. Eine Pflanze mit Schrift-Kartusche. An der Außenseite, unterhalb der feinen Lippe ein grünes Band mit mäandrierendem Muster, darunter nach einem roten Faden kleine, grüne Punkte. Der Fuß ist eingefasst von einer gemalten Manschette aus stilisierten Blättern. Die Bemalung vor gebrochen weißem Fond in Grün, Mangan, Gelb und Rostrot sowie Blau für die unterseitige Schrift. Rand min. rest. und ein feiner Haarriss. (940398)
This object has been individually compared to the information in the Art Loss Register data bank and is not registered there as stolen or missing.
Votre assistant d'art personnel
Vous voulez être informé quand dans nos prochaines ventes aux enchères une œuvre d'art similaire sera proposée? Veuillez activer votre assistant d'art personnel.