Votre recherche majolika dans la vente
Majolique

jeudi, 27 juin 2013
Votre assistant d'art personnel
Voulez-vous acheter un objet similaire?
Nous vous informons volontiers si des objets similaire vendus dans une de nos prochaines vente aux enchères.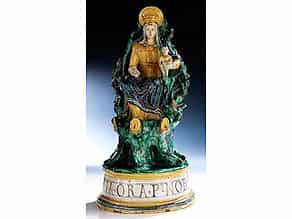 596
Majolika-Figurengruppe Madonna mit Kind
Höhe: 50,5 cm.
Auf dem Sockel signiert und datiert "Arminio Caselli fec. 1640. In Bagniasco".
Bagnasco, 1640.
Prix de catalogue € 25.000 - 30.000 Prix de catalogue€ 25.000 - 30.000 $ 27,000 - 32,400
£ 22,500 - 27,000
元 186,500 - 223,800
₽ 2,094,000 - 2,512,800
Auf einem runden Sockel mit Kehlen und Wulsten die vollplastische Figurengruppe einer thronenden Madonna mit Kind. Die Madonna sitzt auf einem hohen Baumstumpf, dessen Äste eine Lehne formen. Der Baumstumpf ragt hinten etwas über den Sockel hinaus. Die Madonna ist streng frontal wiedergegeben, das Kind steht rechts neben ihr auf dem Baumstumpf und sie hält es zart mit einem Arm. Ihr Kopf ist von einer Nimbusscheibe hinterfangen, auf dem Haupt trägt sie eine Krone, bekleidet ist die Madonna mit einem gelben Untergewand und langem, blauem Schleier. Sie blickt milde auf die Anbetenden herab. Auf dem Sockel ist die Bitte angebracht "S. MARIA ORA P(ro) NOBIS". Die Gruppe wurde vormals umspielt von Blüten, die aus den Ästen des Baumes sprießten. Bemalung in Blau, Grün, Gelb, Orange und Mangan. Brandriss, Chips am Fuß, Glasurabplatzungen, Blüten des Baumes abgebrochen. (8910335)


Maiolica figures of the Madonna and Child
Height: 50.5 cm.
Signed and dated on the base Arminio Caselli fec. 1640. In Bagniasco.
Bagnasco, 1640.

On a round, convex and concave base, figures of enthroned Madonna and Child. The Madonna seated on a high tree trunk, its branches forming the back of a throne. The tree trunk slighly reaching over the base at the back. The Madonna is represented frontally with the Child standing on the tree trunk to her right, tenderly draping her arm around the Child. Her head surrounded by a nimbus, wearing a crown and dressed in a yellow dress and a long blue veil. She is benignly looking down at the worshippers. A request is painted on the base S. MARIA ORA P(ro) NOBIS. The group was formerly surrounded by flowers that grew out of the branches of the tree. Painted in blue, green, yellow, orange and manganese. Fire crack, chips on the base, glaze chips, flowers broken off the tree.
This object has been individually compared to the information in the Art Loss Register data bank and is not registered there as stolen or missing.
Votre assistant d'art personnel
Vous voulez être informé quand dans nos prochaines ventes aux enchères une œuvre d'art similaire sera proposée? Veuillez activer votre assistant d'art personnel.