Votre recherche majolika dans la vente
Majolique

jeudi, 27 juin 2013
Votre assistant d'art personnel
Voulez-vous acheter un objet similaire?
Nous vous informons volontiers si des objets similaire vendus dans une de nos prochaines vente aux enchères.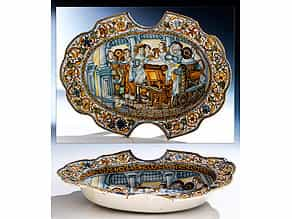 586
Seltene Majolika-Schale
Höhe: 8,3 cm.
Breite: 38 cm.
Tiefe: 28 cm.
Castelli, 17. Jahrhundert.
Prix de catalogue € 25.000 - 35.000 Prix de catalogue€ 25.000 - 35.000 $ 26,250 - 36,750
£ 22,500 - 31,500
元 183,250 - 256,550
₽ 1,651,250 - 2,311,750
Tiefes Becken mit zwei eingezogenen Partien und wellig geschweiftem Rand. Die Fahne ist dekoriert mit Blüten und Ranken, die mit einem Band außen gerahmt sind. Die Wandung zeigt ein geometrisches Blattdekor. Im Spiegel ist die letzte Szene aus der Geschichte vom Verlorenen Sohn dargestellt. In zeitgenössischem Kostüm sitzen mehrere Personen um eine große Tafel in einem vornehmen Haus. Links nähert sich ein junger Mann mit umgehängtem Schwert. Die Architektur ist von Säulen auf hohen Piedestalen bestimmt. Bemalung in Gelb, Blau, Grün, Rot und Braun. Haarriss. Bruchrest.

Anmerkung:
Als Motivvorlage diente ein Stich zur Geschichte vom Verlorenen Sohn von Abraham Bosse (1602/ 02 Tours - 1676 Paris). Ein Druck befindet sich im Metropolitan Museum of Art, New York. Werkverzeichnis: Duplessis 39 und Join-Lambert and Préaud 169.139. (930008)


Rare maiolica bowl
Height: 8.3 cm.
Width: 38 cm.
Depth: 28 cm.
Castelli, 17th century.

Deep bowl with two indentations at the sides and a wavy rim. The border is decorated with flowers and vines that are framed by a band on the outer edge. The curved sides of the bowl are painted with geometrical foliage décor. At the centre, painted allegorical scene from the story of The Lost Son. A group of figures dressed in contemporary costume is seated around a table in an elegant house. A young man wearing a sword approaches from the left. The classical architectural backdrop features pillars on high pedestals. Painted in yellow, blue, green, red and brown. Hairline crack. Restored cracks.

Notes:
An engraving depicting the story of The Lost Son by Abraham Bosse (1602/02 Tours - 1676 Paris) served as template for this scene.
One print is located at the Metropolitan Museum of Art, New York. Catalogue raisonné: Duplessis 39 and Join-Lambert and Préaud 169.139.
This object has been individually compared to the information in the Art Loss Register data bank and is not registered there as stolen or missing.
Votre assistant d'art personnel
Vous voulez être informé quand dans nos prochaines ventes aux enchères une œuvre d'art similaire sera proposée? Veuillez activer votre assistant d'art personnel.