Vente

Tableaux du XVI - XVIII siècle
Votre assistant d'art personnel
Voulez-vous acheter un objet similaire?
Nous vous informons volontiers si des objets similaire vendus dans une de nos prochaines vente aux enchères.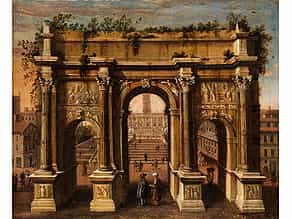 441
Italienischer Maler aus dem Umkreis/ Nachfolge von Luca Carlevarijs, 1665 – 1731
IDEALISIERTER RÖMISCHER PROSPEKT: ANSICHT DES RÖMISCHEN SEPTIMUS-SEVERUS-BOGENS MIT BLICK AUF DAS KAPITOL Öl auf Leinwand. Doubliert.
31 x 37,5 cm.
Auf dem vergoldeten Rahmen graviertes Künstlernamensschild.
Prix de catalogue € 15.000 - 25.000 Prix de catalogue€ 15.000 - 25.000 $ 16,200 - 27,000
£ 13,500 - 22,500
元 111,900 - 186,500
₽ 1,256,400 - 2,094,000
In idealisierter Weise sind die beiden bedeutenden römischen Bauwerke hintereinander gestaffelt wiedergegeben, sodass durch den Mittelbogen das römische Kapitol sichtbar wird. Der antike Triumphbogen dem Bild nahe herangezogen, von Sträuchern bewachsen. Detailgenau wiedergegeben, mit zwischen den Bögen und seitlich stehenden, flanierenden Personen im Vordergrund. Mittig ein abendländisch und ein morgenländisch gekleideter Mann im Gespräch. Seitlich des Bogens weitere Häuserfassaden. Nachdem von dem genannten venezianischen Vedutenmaler Carlevarijs keine römischen Ansichten bekannt sind, könnte es sich allenfalls um einen Schüler handeln, der später in Rom tätig war. (881527)
This object has been individually compared to the information in the Art Loss Register data bank and is not registered there as stolen or missing.
Votre assistant d'art personnel
Vous voulez être informé quand dans nos prochaines ventes aux enchères une œuvre d'art similaire sera proposée? Veuillez activer votre assistant d'art personnel.