Vente

Tableaux du XVI - XVIII siècle
Votre assistant d'art personnel
Voulez-vous acheter un objet similaire?
Nous vous informons volontiers si des objets similaire vendus dans une de nos prochaines vente aux enchères.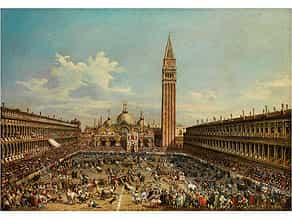 308
Italienischer Maler des 18. Jahrhunderts
DAS GROSSE SPEKTAKEL AUF DEM MARKUSPLATZ IN VENEDIG Öl auf Leinen. Doubliert.
88 x 125,5 cm.
Prix de catalogue € 125.000 - 150.000 Prix de catalogue€ 125.000 - 150.000 $ 135,000 - 162,000
£ 112,500 - 135,000
元 932,500 - 1,119,000
₽ 10,470,000 - 12,564,000
Großformatiges Gemälde, das den gesamten Markusplatz aus erhöhtem Standpunkt zeigt, mit Blick auf die hinten stehende Markuskirche und dem rechts davor stehenden Campanile. Die seitlichen Gebäude mit Festtüchern geschmückt, in den Fenstern zahllose Zuschauer, das Geviert des Platzes umzogen von mehrreihigen Tribünen, die voll besetzt sind. Auch hier eine zahllose Menschenmenge auf dem Platz, dazwischen Stiere, die an langen Leinen geführt werden und die Personengruppen auseinander treiben.

Anmerkung:
Stierkampfaufführungen auf dem Markusplatz in Venedig werden seit dem 16. Jahrhundert überliefert, im 18. Jahrhundert häufiger aufgeführt, wobei am "Fetten Donnerstag" vor der Fastenzeit ein Stier in Mitten der Menge losgelassen wird, bevor das Oberhaupt der Schmiedegilde den Stier enthauptet. Erst ab 1783 lässt die Begeisterung für die Stierkämpfe in Venedig nach. 1802, nachdem die Ränge der Arena zusammengebrochen waren, wurden diese Stierkämpfe gänzlich abgeschafft. Das im Bild gemalte, lange, vom Markusturm in die rechte untere Ecke gezogene Seil dürfte wohl zum Hissen einer Flagge gedacht sein, der Triumphbogen vor dem Markusplatz war ehemals in Holz aufgeführt, weiß gestrichen und als vorübergehendes Bauwerk für die Festlichkeiten errichtet worden. (871127)


An 18th Century Italian Painter
Oil on canvas. Doubled.
88 x 125.5 cm.
This object has been individually compared to the information in the Art Loss Register data bank and is not registered there as stolen or missing.
Votre assistant d'art personnel
Vous voulez être informé quand dans nos prochaines ventes aux enchères une œuvre d'art similaire sera proposée? Veuillez activer votre assistant d'art personnel.