Votre assistant d'art personnel
Voulez-vous acheter un objet similaire?
Nous vous informons volontiers si des objets similaire vendus dans une de nos prochaines vente aux enchères.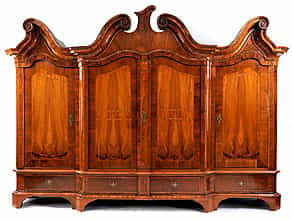 98
Imposanter Barock-Hallenschrank
Höhe: 257 cm.
Breite: 368 cm.
Tiefe: 79 cm.
Süddeutschland, 18. Jahrhundert.
Prix de catalogue € 25.000 - 30.000 Prix de catalogue€ 25.000 - 30.000 $ 27,250 - 32,700
£ 22,500 - 27,000
元 197,750 - 237,300
₽ 2,373,750 - 2,848,500
Der Nadelholz-/ Eichenkorpus in Nussbaum und Nussbaumwurzel furniert sowie mit feinen Bandeinlagen intarsiert. Der Aufbau vierteilig, die Mitte nimmt eine zweitürige Schrankfassade ein, mit leicht zurückversetzten, seitlichen, eintürigen Anbauerweiterungen, die das Möbel insgesamt als viertürig präsentieren. Hinter den Türen Facheinteilung. Die Gesamtfront von einem hohen, dreifach aufschwingenden Gesimsgiebel zusammengefasst. Dabei ragt der mittlere als Sprenggiebel über die seitlichen Volutengiebel hinaus, in der Sprengmitte steigt ein geschwungenes Pfeilerstück hoch. Die Gesimsprofile hohlkehlig und parallel furniert. Die Türen folgen im Schwung dem Giebel. Der auf Stollenfüßen stehende Sockel gerade und mehrfach gekröpft, an den Seiten des Mittelschrank-Teiles entsprechend der aufsteigenden Lisene gerundet und an den Eckenverbindungen schräggestellt. Der Sockel mit vier Schubladen. Messingschilder- und zuggriffe. Rest. Erg. Leichte Alterssp. Schöne, alte Eisenriegel, Eisen-/ Messingschnappschlösser, teils durchbrochen gearbeitet und Schlüssel.

Literatur:
Hermann Schmitz, Deutsche Möbel des Barock und Rokoko, Stuttgart 1923, S. 191. (8717415)
This object has been individually compared to the information in the Art Loss Register data bank and is not registered there as stolen or missing.
Votre assistant d'art personnel
Vous voulez être informé quand dans nos prochaines ventes aux enchères une œuvre d'art similaire sera proposée? Veuillez activer votre assistant d'art personnel.