Votre assistant d'art personnel
Voulez-vous acheter un objet similaire?
Nous vous informons volontiers si des objets similaire vendus dans une de nos prochaines vente aux enchères.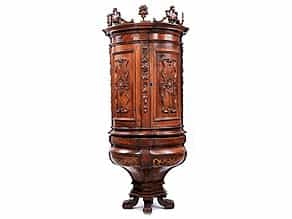 87
Seltenes, barockes Salonmöbel in Zylinderform
Höhe: 189 cm.
Durchmesser: 83 cm.
Italien, Piemont, um 1700.
Prix de catalogue € 15.000 - 20.000 Prix de catalogue€ 15.000 - 20.000 $ 16,200 - 21,600
£ 13,500 - 18,000
元 111,900 - 149,200
₽ 1,256,400 - 1,675,200
Wohl als Sammlungsobjekt oder Musikschrank gefertigt, in überwiegend massivem Nussholz, partiell furniert, im unteren Teil mit Bandeinlagen dekoriert. Der Aufbau dreiteilig, der Unterbau ein vierfüßiger, pokalförmiger Sokkel, der sich nach oben kuppaartig weitet, auf vier Füßen, in Form gequetschter Voluten, die einen vierseitigen, mehrfach verkröpften Grundsockel tragen. Darüber in die Kuppa hochziehende Spangen, die Kassettenflächen dazwischen mit heller Bandwerkintarsie dekoriert, mit symmetrischen Kartuschen und sich überschneidenden C- und S-Bögen, dazwischen im Zentrum ein Fratzenmaskaron mit heraushängender Zunge, die Augen in Elfenbein eingelegt, die Intarsien brandschattiert. Der obere Rand einziehend, mit umlaufender Zarge und Volutenkämpfern an den Spangen. Der mittlere Aufbau zylinderförmig, vierfach durch Lisenen gegliedert, die dem Hohlkehlengesims aufstehen. Die Lisenen besetzt mit vollplastisch geschnitztem Blüten- und Blattwerk, in Form von Hängeblüten an geschnitzten Kartuschen mit Barock-Palmetten und Rosetten. Die vier Segmentflächen der tonnenförmigen Wandung mit Kassettenrahmen besetzt, in den Kassettenflächen aufgesetzte, geschweifte Kartuschenrahmungen mit Voluten, Hängeblättern und zentralem Kreuzblatt. Darüber ein Architrav, V-förmig in Nussholz furniert, mit vorkragendem, an vier Seiten verkröpftem Abschlussgesims, bekrönt von geschnitzten Vasen und hochziehenden Bandwerkspangen mit Voluten und durchbrochen geschnitzten Barock-Palmetten. Das Innere ohne Einbauten. Das originale Eisenschloss erhalten, Schlüssel vorhanden. (872021)


A Piece of Rare, Museum Quality Baroque Cylindrical Salon Furniture
Height: 189 cm.
Diameter: 83 cm.
Italy, Piemont, circa 1700.
This object has been individually compared to the information in the Art Loss Register data bank and is not registered there as stolen or missing.
Votre assistant d'art personnel
Vous voulez être informé quand dans nos prochaines ventes aux enchères une œuvre d'art similaire sera proposée? Veuillez activer votre assistant d'art personnel.