Vente

Tableaux du XVI - XVIII siècle
Votre assistant d'art personnel
Voulez-vous acheter un objet similaire?
Nous vous informons volontiers si des objets similaire vendus dans une de nos prochaines vente aux enchères.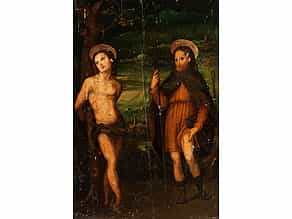 267
Norditalienischer Meister des beginnenden 16. Jahrhunderts
KLEINE ALTARTAFEL MIT DARSTELLUNG DER BEIDEN HEILIGEN SEBASTIAN UND ROCHUS Öl auf Weichholz.
50,5 x 34 cm.
Norditalien/ Veneto, Anfang 16. Jahrhundert.
In schlichtem Holzeinfassungsrähmchen.
Prix de catalogue € 10.000 - 12.000 Prix de catalogue€ 10.000 - 12.000 $ 10,500 - 12,600
£ 9,000 - 10,800
元 76,800 - 92,160
₽ 1,019,400 - 1,223,280
Die Heiligen stehend wiedergegeben, links Sebastian an einen Baum gebunden, mit Stand- und Spielbein elegant übereinandergestellt, der Kopf mit leidendem Gesicht nach links gerichtet, mit blutenden Pfeilwunden. Rechts der Heilige Rochus, die rechte erhobene Hand an einem Wanderstab, im Reisekleid mit dunklem Mantelumhang über rostrotem Kleid, der Kleidsaum am linken Schenkel hochgezogen, die sichtbare Wunde zu zeigen, der Blick ist auf den Betrachter gerichtet. Die beiden in landschaftlicher Umgebung, wobei der Märtyrerbaumstamm des Sebastian in die Krone eines landschaftlichen Baumes übergeht. Am rechten Bildrand im Hintergrund ein junger, hochziehender Baum mit Laubkrone, zwischen den beiden Figuren Blick in eine Tallandschaft mit verstreut liegenden Burg- und Stadtanlagen sowie hochziehenden Bergen im Hintergrund und horizontal ziehenden Wolken. An der Rückseite bblau bemalt, mit zwei kreisförmigen Dekorringen - als Rückseitenbemalung des einstigen Altars. Die Platte mittig gerissen, geleimt und rest., partielle Übermalungen auf offensichtlich gut erhaltenem Untergrund, einige Kratzer an der Oberfläche. (8605621)
This object has been individually compared to the information in the Art Loss Register data bank and is not registered there as stolen or missing.
Votre assistant d'art personnel
Vous voulez être informé quand dans nos prochaines ventes aux enchères une œuvre d'art similaire sera proposée? Veuillez activer votre assistant d'art personnel.