Votre assistant d'art personnel
Voulez-vous acheter un objet similaire?
Nous vous informons volontiers si des objets similaire vendus dans une de nos prochaines vente aux enchères.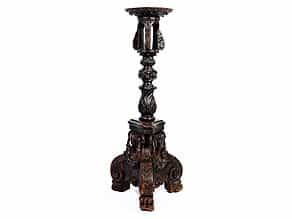 29
Großer Guéridon
Höhe: 136 cm.
Breite: ca. 58 cm.
Italien/ Rom, Spätrenaissance, Ende 16. Jahrhundert um 1600.
Prix de catalogue € 10.000 - 12.000 Prix de catalogue€ 10.000 - 12.000 $ 10,800 - 12,960
£ 9,000 - 10,800
元 74,600 - 89,520
₽ 837,600 - 1,005,120
Holzgeschnitzt, in Form eines Standkandelabers, der hohe Fuß dreiseitig, gebildet aus großen Voluten über kräftigen Löwentatzenfüßen. An den Oberkanten der Voluten Schuppenmotiv, an den Seiten jeweils ein geflügelter Engelskopf in ionischen Kapitellvoluten, von denen kräftige, vollplastisch geschnitzte Fruchtfestons herabhängen. Der Schaft balusterförmig, ansetzend in Art einer vasenförmigen Akanthusblattknospe, darüber Nodus mit geschnitzten Früchten sowie darüber hochsteigender Aufsatz, abgeschlossen durch einen Rundteller über drei Volutenspangen. (860406)
This object has been individually compared to the information in the Art Loss Register data bank and is not registered there as stolen or missing.
Votre assistant d'art personnel
Vous voulez être informé quand dans nos prochaines ventes aux enchères une œuvre d'art similaire sera proposée? Veuillez activer votre assistant d'art personnel.