Vente

Tableaux du XVI - XVIII siècle
Votre assistant d'art personnel
Voulez-vous acheter un objet similaire?
Nous vous informons volontiers si des objets similaire vendus dans une de nos prochaines vente aux enchères.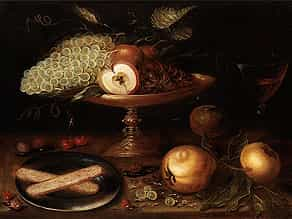 247
Maler der Flämischen Schule des 17. Jahrhunderts, im Umkreis des Jacob van Es
STILLEBEN MIT PRUNKSCHALE UND FRÜCHTEN Öl auf Eichenholz. Parkettiert.
49 x 64,5 cm.
Prix de catalogue € 15.000 - 25.000 Prix de catalogue€ 15.000 - 25.000 $ 15,750 - 26,250
£ 13,500 - 22,500
元 115,200 - 192,000
₽ 1,529,100 - 2,548,500
Im Zentrum des Bildes vor dunklem Hintergrund eine auf heller, erleuchteter Tischplatte stehende, goldene Tazza mit fein geschmücktem Balusterfuß, darin helle Trauben sowie zwei Äpfel, davor ein angeschnittener Apfel, der das Kernhaus zeigt. Seitlich am rechten Bildrand ein halb gefülltes Rotweinglas durchsichtig wiedergegeben, davor weitere Früchte wie Birnen, Granatapfel sowie mehrere abgepflückte Trauben am Boden liegend. An der linken unteren Bildfläche ein Zinnteller mit Biskuitgebäck, umgeben von Kirschen und Himbeeren. Die Objekte in sachlicher Feinmalerei, jedoch mit mildem, honigfarbenem Licht überfangen. Wirkungsvoll der Übergang vom heller erleuchteten Vordergrund zum nächtlich dunklen Hintergrund. (8514066)


Painter of the 17th Century Flemish School,
Circle of Jacob van Es
Oil on Oak Panel. Parquetted.
49 x 64.5 cm.
This object has been individually compared to the information in the Art Loss Register data bank and is not registered there as stolen or missing.
Votre assistant d'art personnel
Vous voulez être informé quand dans nos prochaines ventes aux enchères une œuvre d'art similaire sera proposée? Veuillez activer votre assistant d'art personnel.