Vente

Vente des beaux arts
Votre assistant d'art personnel
Voulez-vous acheter un objet similaire?
Nous vous informons volontiers si des objets similaire vendus dans une de nos prochaines vente aux enchères.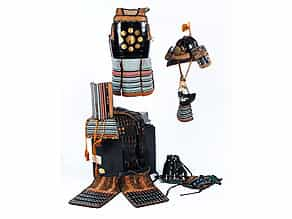 1347
Japanische Rüstung
Japan, 20. Jahrhundert.
Prix de catalogue € 7.500 - 8.500 Prix de catalogue€ 7.500 - 8.500 $ 7,875 - 8,925
£ 6,750 - 7,650
元 57,600 - 65,280
₽ 764,550 - 866,490
Helm (kabuto) mit Sonnenscheibe (nichirin no maedate). Blendschutz (mabisashi) und Schläfenplatte (fukikaeshi) mit bedrucktem Leder und Metallappliken verziert. Nackenschutz (shikoro) durch verschiedenfarbige Stoffbänder zusammengehalten. Gesichtsmaske (menpo) mit goldbemalten Scheinzähnen und weißem, appliziertem Bart. Gelenk des Kragens (erimawashi) durch verschiedenfarbige Bänder verziert. Brustpanzer (hotokedo) vorder- und rückseitig mit gleichem Emblem wie auf der Sonnenscheibe, bedruckte Leder- und Metallapplikationen. Schurzglieder (kusazuri) reichlich mit verschiedenfarbigen Stoffbändern verziert. Kampfhandschuhe (kote) mit Metallapplikationen auf edlem braunem Stoff; gepolsterte Beinschützer (suneate) teilweise mit Leder versehen. Oberschenkelschutz (haidate) durch bunten Stoff und bedrucktes Leder verziert. Sämtliche Metallglieder schwarz lackiert. Lackkiste. (801439)
This object has been individually compared to the information in the Art Loss Register data bank and is not registered there as stolen or missing.
Votre assistant d'art personnel
Vous voulez être informé quand dans nos prochaines ventes aux enchères une œuvre d'art similaire sera proposée? Veuillez activer votre assistant d'art personnel.