Vente

Une collection privée d'objets en ivoire
Votre assistant d'art personnel
Voulez-vous acheter un objet similaire?
Nous vous informons volontiers si des objets similaire vendus dans une de nos prochaines vente aux enchères.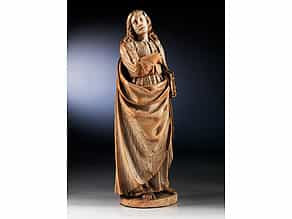 972
Schnitzfigur eines Johannes Evangelist in Elfenbein (oder Mammutbein?)
Höhe: 25 cm.
Italien, 17. Jahrhundert.
Prix de catalogue € 20.000 - 25.000 Prix de catalogue€ 20.000 - 25.000 $ 21,000 - 26,250
£ 18,000 - 22,500
元 153,600 - 192,000
₽ 2,038,800 - 2,548,500
Standfigur auf mitgeschnitztem, nahezu rundem Plinthensockel. Beide Füße mit Sandalen unter dem Kleidsaum vortretend, nahezu gerade Körperhaltung, der Kopf nach links gewandt mit Blick nach oben, da es sich wohl um eine Kreuz-Assistenzfigur handelt. Der Mantel unter dem linken Arm hochgezogen, in der linken Hand das Evangelienbuch, die rechte Hand an die Brust geführt. Der Kopf gerahmt von über die Schultern herabfließendem, welligem Haar. Die Gewandfalten in retardierender Stilauffassung zitieren noch ältere Vorbilder. Schöne Alterspatina bei leicht alt rissigem Bein. (8018646)
This object has been individually compared to the information in the Art Loss Register data bank and is not registered there as stolen or missing.
Votre assistant d'art personnel
Vous voulez être informé quand dans nos prochaines ventes aux enchères une œuvre d'art similaire sera proposée? Veuillez activer votre assistant d'art personnel.