Vente

Une collection d'art privée
Votre assistant d'art personnel
Voulez-vous acheter un objet similaire?
Nous vous informons volontiers si des objets similaire vendus dans une de nos prochaines vente aux enchères.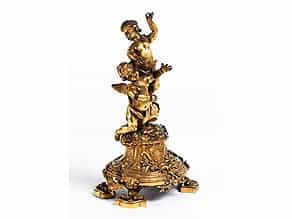 798
Feuervergoldete Bronzefigurengruppe
Höhe: 24 cm.
Wohl Rom, 18. Jahrhundert.
Prix de catalogue € 2.800 - 3.200 Prix de catalogue€ 2.800 - 3.200 $ 2,940 - 3,360
£ 2,520 - 2,880
元 21,504 - 24,576
₽ 285,432 - 326,208
Zwei Engelsputten auf Wolken in schwebender bzw. kniender Haltung mit vor- und hochgestreckten Ärmchen in feiner bildhauerischer Ausführung, auf einer Wolkenbank, getragen von einem mehrpassig geschweiften zugehörigen Rokoko-Sockel, mit vier Volutenfüßen, die nochmals auf geschweiften Sockeln stehen. Der Sockel insgesamt in Rokoko-Stilistik dekoriert, mit geflügelten Engelsköpfen, Kartuschenrahmungen, freischwingenden Zweigen und Blättern sowie vierpassiger Kartusche mit Kreuz an der Vorderseite. Einige altersbedingte Besch. (rechter Arm eines Engels leicht angebrochen, die Flügel der oberen Figur fehlen). Fein ziseliert. (8010459)
This object has been individually compared to the information in the Art Loss Register data bank and is not registered there as stolen or missing.
Votre assistant d'art personnel
Vous voulez être informé quand dans nos prochaines ventes aux enchères une œuvre d'art similaire sera proposée? Veuillez activer votre assistant d'art personnel.