Vente

Une collection d'art privée
Votre assistant d'art personnel
Voulez-vous acheter un objet similaire?
Nous vous informons volontiers si des objets similaire vendus dans une de nos prochaines vente aux enchères.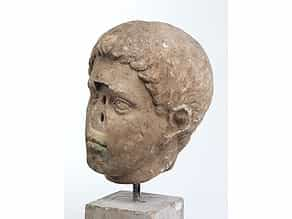 822
Römischer Marmorkopf eines jugendlichen Mannes
Höhe: 34 cm.
Gesamthöhe mit Sockel: ca. 54 cm.
Römisch, 5. Jahrhundert oder etwas später.
Prix de catalogue € 4.000 - 4.500 Prix de catalogue€ 4.000 - 4.500 $ 4,320 - 4,860
£ 3,600 - 4,050
元 29,840 - 33,570
₽ 335,040 - 376,920
Kräftig herausgearbeitete Augenpartie, mit starker Brauenwulst unter glatter Stirn und in die Stirn gekämmtem Haar. Die Lippenpartie in guter Erhaltung, die Nase hingegen abgeschlagen, in früherer Zeit durch eine jetzt entfernte Nachbildung ersetzt, von der noch zwei Bohrlöcher sichtbar sind. Grobkristalliner Marmor. Am Hals gebrochen. (80104125)
This object has been individually compared to the information in the Art Loss Register data bank and is not registered there as stolen or missing.
Votre assistant d'art personnel
Vous voulez être informé quand dans nos prochaines ventes aux enchères une œuvre d'art similaire sera proposée? Veuillez activer votre assistant d'art personnel.