Vente

Une collection d'art privée
Votre assistant d'art personnel
Voulez-vous acheter un objet similaire?
Nous vous informons volontiers si des objets similaire vendus dans une de nos prochaines vente aux enchères.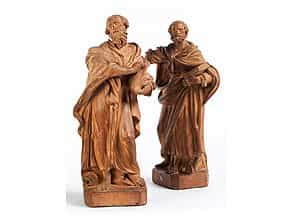 846
Paar Terrakottastatuen: Die Apostel Matthäus und Petrus
Höhe: je ca. 50 cm.
Bologna, 17. Jahrhundert.
Prix de catalogue € 5.500 - 6.500 Prix de catalogue€ 5.500 - 6.500 $ 5,995 - 7,085
£ 4,950 - 5,850
元 43,505 - 51,415
₽ 522,225 - 617,175
Jeweils als Attribut ein Bibelbuch tragend, Gewandfiguren in bewegter Haltung mit Stand- und Spielbein auf kantigen, eckabgeschrägten Sockeln stehend. Gewandfalten in reicher Bewegung, die Köpfe charakteristisch ausgearbeitet, Haar und Bärte fein modelliert. Terrakotta. Rechter Unterarm des Heiligen Petrus sowie linker Zeigefinger des Heiligen Matthäus fehlen. (80104116)


Pair of terracotta statues: the Apostle Matthew and Peter
Height: each ca. 50 cm.
Bologna, 17th century.
This object has been individually compared to the information in the Art Loss Register data bank and is not registered there as stolen or missing.
Votre assistant d'art personnel
Vous voulez être informé quand dans nos prochaines ventes aux enchères une œuvre d'art similaire sera proposée? Veuillez activer votre assistant d'art personnel.