Votre recherche Frans Wouters dans la vente
Tableaux de propriété divers

mercredi, 16 juin 2010
Votre assistant d'art personnel
Vous êtes intéressé par des œuvres de Frans Wouters?
Nous vous informons volontiers si les œuvres d'art de Frans Wouters vendus dans une de nos prochaines vente aux enchères.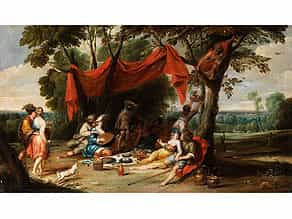 493
Frans Wouters,
1612 Lierre - 1659 Antwerpen, zug.

Schüler von Pieter van Avont bevor er in die Werkstatt von Rubens eintrat und in dieser an zahlreichen Werken des Meisters mitwirkte. Später widmete er sich dem kleineren Format, in dem er Ruben'sche Thematiken zu Kabinettstücken wandelte.
Prix de catalogue € 25.000 - 30.000 Prix de catalogue€ 25.000 - 30.000 $ 27,000 - 32,400
£ 22,500 - 27,000
元 192,750 - 231,300
₽ 2,479,250 - 2,975,100
GALANTE GESELLSCHAFT BEIM LIEBESMAHL UNTER BÄUMEN

Öl auf Holz. Parkettiert.
44 x 76 cm.
Verso einige alte Aufkleber mit Sammlungsvermerk.

Mehrere Paare, die sich unter einem baldachinartig ausgebreiteten roten Tuch unter Bäumen versammelt haben, auf dem Boden weiße Decke mit abgestellten Speisen und Früchten, im Hintergrund eine Dienerin. Im Zentrum eine Laute spielende Frau und ein Mann. Links ein hinzukommdes Paar mit Hund, rechts oben ein Jüngling, der Früchte vom Baum holt. In der typischen Weise des Malers wird die Landschaft als Hintergrund der eigentlichen Szene, des "Liebesgartens" verstanden. (7816321)
This object has been individually compared to the information in the Art Loss Register data bank and is not registered there as stolen or missing.
Votre assistant d'art personnel
Vous voulez être informé quand dans nos prochaines ventes aux enchères une œuvre d'art de Frans Wouters sera proposée? Veuillez activer votre assistant d'art personnel.