Votre recherche kaminuhr dans la vente
Meubles et aménagements

vendredi, 4 avril 2008
Votre assistant d'art personnel
Voulez-vous acheter un objet similaire?
Nous vous informons volontiers si des objets similaire vendus dans une de nos prochaines vente aux enchères.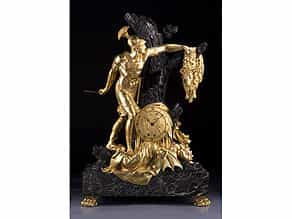 387
Kaminuhr
Höhe: 62 cm.
19. Jahrhundert.
Prix de catalogue € 24.000 - 26.000 Prix de catalogue€ 24.000 - 26.000 $ 25,920 - 28,080
£ 21,600 - 23,400
元 179,040 - 193,960
₽ 2,010,240 - 2,177,760
Aufbau in Bronze, vergoldet und zum Teil schwarz patiniert, auf querrechteckigem, grün-weiß geäderten Marmorsockel. Der Sockel über vier vergoldeten Löwentatzen, darauf ein mittig aufsteigender hohler Baumstamm, an dessen Ast das sog. Goldene Fließ hängt, nach dem der griechische Held Jason ergreift, nachdem er den Drachen getötet hatte, der hier zu seinen Füßen unterhalb eines Velums liegt. Typisch für das beginende 19. Jahrhundert entstammt das Sujet der Uhr, die Auffindung des Goldenen Fließes der griechischen Antike. Im Zentrum das Zifferblatt in Vergoldung, in dessen Mitte sich eine Reliefdarstellung befindet: Dem erfolgreichen Krieger überreicht Nike, die Siegesgöttin, den Lorbeerzweig.

Anmerkung:
Vom Modell dieser Prunkuhr existieren einige Ausführungen; bekannt ist die Uhr im Schloss Malmaison sowie im Königspalast von Madrid. Die ursprüngliche Modellierung geht auf eine Entstehung um 1810 zurück, danach mehrere Ausführungen.

Literatur:
Pierre Kjellberg, "Encyclopédie de la pendule française du moyen age au 20ième siècle", Paris, 1997. Im Druckwerk ist auf S. 412 die originale Ausführung aus dem Schloss Malmaison abgebildet. (6902812)

This object has been individually compared to the information in the Art Loss Register data bank and is not registered there as stolen or missing.
Votre assistant d'art personnel
Vous voulez être informé quand dans nos prochaines ventes aux enchères une œuvre d'art similaire sera proposée? Veuillez activer votre assistant d'art personnel.