Vente

Vente des beaux arts
Votre assistant d'art personnel
Voulez-vous acheter un objet similaire?
Nous vous informons volontiers si des objets similaire vendus dans une de nos prochaines vente aux enchères.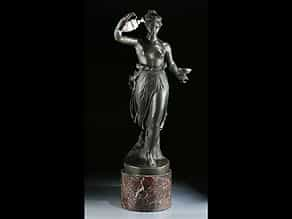 311
Große Bronzefigur einer Hebe
Nach Modell von Antonio Canova 1757 - 1822, in Bronze ausgeführt von Benedetto Boschetti 1796 - 1817 Die junge Mädchengestalt stehend, der Oberkörper unbekleidet, der Rock an der Taille gebunden und wie durch Luftzug nach hinten in einem Schwung zurückgeweht. In der rechten Hand hält sie eine Kanne, in der Linken einen Kelch. Die Bronzefigur in Abwandlung nach der 160 cm hohen Marmorfigur von Canova in der Alten Nationalgalerie Berlin. Anstelle einer Wolkenbank bei Canova hat der italienische Bildhauer Boschetti einen Baumstumpf gesetzt. Ebenso wurden Kelch und Kanne figurativ abgewandelt. Bronzeguss
in schöner, dunkler Alterspatina. Auf zylindrischen Marmorsockel montiert.
Prix de catalogue € 6.500 - 7.000 Prix de catalogue€ 6.500 - 7.000 $ 7,020 - 7,560
£ 5,850 - 6,300
元 48,490 - 52,220
₽ 544,440 - 586,320
Höhe: 63 cm.
Auf der Plinthe seitlich signiert "B. Boschetti-Roma". (6812636)
This object has been individually compared to the information in the Art Loss Register data bank and is not registered there as stolen or missing.
Votre assistant d'art personnel
Vous voulez être informé quand dans nos prochaines ventes aux enchères une œuvre d'art similaire sera proposée? Veuillez activer votre assistant d'art personnel.